Parks and Recreation Review: Mrs. Leslie Knope and Mr. Ben Wyatt
Lisa Palmer at .
Mazel tov to the best couple on television: Mrs. Leslie Knope and Mr. Ben Wyatt!
This Parks and Recreation wedding was pitch perfect. And who knew Donna could sing? No one, more than likely. And that's what made it so funny. This wedding reminded me of April and Andy's surprise wedding. Remember how skeptical Leslie was of that marriage? Now Parks and Recreation has another all-star married couple.
I'll be covering both of tonight's episodes within this review, so look no further for my opinions on "Leslie and Ben" and "Correspondents' Lunch". One episode stood out a bit more than the other, and that was the first one. Ben and Leslie's wedding was everything it was supposed to be: touching, funny, dramatic, and heartfelt.
Although again, I could always do without Councilman Jamm. I don't think he's at all a worthy adversary to Leslie Knope. I think for Parks and Recreation to have a real villain, they need someone who is equally as smart as Leslie and Jamm is not that person. I get that he's supposed to have a juvenile appeal, but it doesn't quite work for me. Although Ron punching him was pretty great. As was Ron making the rings out of Ann's light fixture. And Ron's simple, candid, and heartfelt speech to Leslie about what she means to him. Ron wins the episode. Again.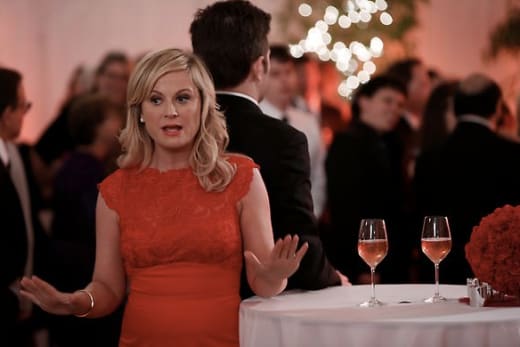 Now for the stuff I'm not a fan of in either episode. I don't love this Ann/baby storyline. It's not that I'm not all for women who want to be parents, but I don't really love Ann much to begin with and any time children could be entering the picture in the long term, especially a baby, I'm wary. And even though I know she'd have to be pregnant for nine months, this show does tend to skip around.
Plus, is it fairly obvious that Chris and Ann are going to end up back together when all is said and done? It seems a near certainty that once she realized he would make a great father, the idea of him as a boyfriend doesn't seem too far off.
As for Ben's job, I'm just excited that Ben and Andy will get to work together. Ben with anyone else is a treat, especially either April or Andy. Remember that episode with Andy and April's road trip to nowhere? I could go for some more scenes like that.
Other favorite moments: the can of Whoop Ass, the Surgeon General's warning, Tom's instructions to Jerry on officiating, the all too brief appearance of Champion, Leslie's Tim Gunn impression, and Chris' speech to Andy, which was incredibly generous and uplifting. The characters on this show are written to know just what to say!
And by the way, if the wedding episode seems rather...final, it's because it was originally written as a finale before the show was picked up for another 13 episodes (courtesy of hitfix.com).
Cheers to the happy couple. And generally to this series. I can't remember the last time I was so often moved by a comedy in this style.