"Tiny" returned to run amok in Storybrooke and, thanks to Regina's magic mushrooms ,he got to do it at full giant size.
I really felt for Tiny. He had no real friends in either realm and the only brother that seemed to care about him was felled by Jack.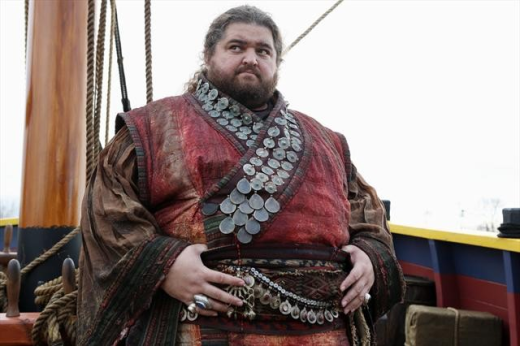 Having Jack be a gorgeous woman and the villain of the story was a great twist. Too bad she hooked up with James. Apparently the guy was always a selfish, arrogant bastard. Could two twins ever be less alike?
It was good to see Hook out of the hospital, even if all he did was make snarky comments to my favorite Storybrooke characters. As he told Regina in one of the many entertaining Once Upon a Time quotes…
I've been tied up in bed. Not in the good way. | permalink
When he told Snow he could see where Emma got her gumption from, I couldn't help but agree. I like Charming but Snow has the stronger heart.
There were several things I loved about Rumplestiltskin, Emma and Henry's journey. First of which was Rumple's conversation with Charming…
Charming: If anything happens to them...
Mr. Gold: Then you'll what? Cross the time line and David Nolan will hunt me down in his animal rescue van. | permalink
I literally laughed out loud.
That Charming actually didn't threaten Rumple was a nice change of pace. That he simply plead with the man to keep his family safe meant so much more and certainly had more of an affect on Rumple.
It was also quite a turn around to watch Emma looking out for Rumple. For as powerful as he was in Storybrooke and the fairy tale world, he's completely out of his element now. He needed Emma and she was there for him in the airport. She also tried to comfort him on the plane when he looked absolutely terrified. Do you think his fear was due to what was at stake on this journey or just the thought of flying at 30,000 feet in a giant tin cylinder?
Back in Storybrooke, Rumple's other half wasn't faring much better. Belle didn't even know her name and when she asked Ruby about the magic she'd seen, Ruby lied to her. 
Perhaps someone should share the truth with Belle. Could it be any worse than this? If she doesn't believe it and tells others they will only continue to believe she's crazy.  If they can convince her of the truth, that's a huge step in the right direction and Rumple, Ruby and her friends can help protect her. Of course first they need to get Greg out of town.
Other side notes…
Ruby's wolflike jacket was just awesome. I love it when they add little character touches to the wardrobe.
Did Henry's cinnamon buns make anyone else hungry?
Rumple's right. Having to remove your shoes and belt might be necessary but it is completely uncivilized.
Any episode that puts a bow and arrow in Snow's hands gets a thumbs up from me.
I was surprised that Charming seemed so willing to ditch Emma and Henry and head to the fairy tale world. I suppose he's never felt as though he's fit in in Storybrooke and he misses the power of running a kingdom. The problem is that Snow's not about to miss any more time with her daughter. This argument is far from over.

Speaking of Snow, could she please stop rubbing it in Regina's face that Henry is with Emma now? Why make an evil sorceress angry, especially when you know it's her sore spot?

And is Regina really working with her mother? I've wanted to hold out hope that Regina's playing both sides but without Henry physically there to remind her to be good, it's easy for her lose sight of her promise to become a better person.

It looks as though we're on the cusp of the big reveal and will finally meet Rumple's son as an adult in the real world. Will Emma use her bounty hunter skills to help hunt him down? Does Baelfire have any other connections in Storybrooke? One more week and we should get some answers on the next Once Upon a Time.

C. Orlando is a TV Fanatic Staff Writer. Follow her on Twitter.

Tags: Once Upon a Time, Reviews
Want more Once Upon a Time?
Sign up for our daily newsletter and receive the latest tv news delivered to your inbox for free!
More From TV Fanatic

This week on The Last Ship, Danny gets sick and the crew begins to panic. Is it the virus? Meanwhile, Rachel's vaccine trials continue to fail.

Who was able to successfully problem solve on The Rachael Ray Show this week? Find out now in our review of Food Network Star.

The Masons are reunited on Falling Skies Season 4 Episode 6. Will it be a happy or contentious reunion?

What took place on The Real Housewives of New Jersey Review this week? Read our rundown to find out!
---