What does it mean to be who you are? Is changing an act of going away from yourself? Or is changing simply to evolve, and that in itself is inevitable to being you? "I've Been Down That Road Before" delved into that subject and more while steaming up everybody's living room with a certain elevator scene.
Juliette Barnes has been wrestling with her image since we were first introduced to the young country star. She has taken many steps to improve as a person and as an artist over the course of Nashville's first 11 episodes, but most of those moments have been within herself or just in the presence of a trusted few.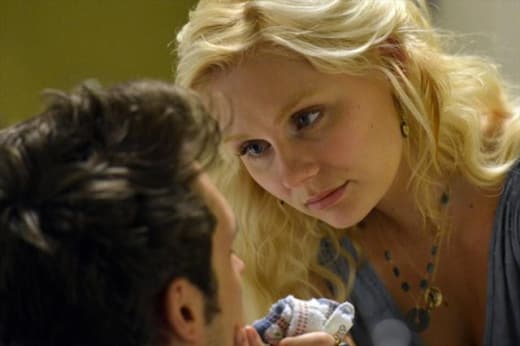 Stepping out on that stage in Chicago in a simple white blouse and a pair of jeans to sing a tender acoustic number with her band leader was the first time she stepped away from the Juliette Barnes that the public, and most importantly her fans, have always known.
It has been a Juliette Barnes that they've loved. Before the mother issues, and the stealing, Juliette's music was adorned by kids all over the country. Although it's never portrayed this way on the show, if this fictional world is like real life, I can assure you her bubble gum country music is extremely popular among girls in their 20s.
The risk she took in changing things up, doing something she believed in as an artist was extreme. It was a huge risk, and it was one that she thought she was going to pay for.
The critic who live tweeted some nasty comments about Juliette not being able to sing was without a doubt insane. What do we know anyway?!?! It just didn't make any sense. The story that Nashville is telling with Juliette is that she actually IS talented enough to do something different. The issue shouldn't have been critics disliking it. The unknown was whether or not her fans were mature enough to understand it.
Apparently they are. She also probably gained some new fans. A small percentage of those 100,000 views and likes on YouTube were probably those that thought of her as a no talent shiny blondie before. You know, like Rayna did.
That's not her. She's talented. She's soulful. She can sing. And she proved it. I'm just glad that for now, the risk paid off.
Before we all go and buy more Hayden Panettiere music on iTunes, let me introduce you to the rest of the band...
Deacon Claybourne
The dude has been, and continues to be lost...at all times. He's on tour with Juliette. He's getting ragged on by Rayna for it. He seems to actually enjoy writing with Juliette. He can't stand the insane amount of people she brings with her. Seeing Rayna is awkward for him. It's a whirlwind of things going on for Deacon.
At some point the dude just couldn't take it anymore, and we all benefited from that frustration. WHAT. A. KISS!  If that make out sesh in the elevator didn't get your blood boiling, then we should call a doctor to make sure you're still alive. Woo, that's what we've been waiting for!
We weren't done yet though. Rayna texted him to come to her room to talk, and that's when the real fun stuff was going to go down. The tension continued to rise as he began his stroll upstairs. The epic music played in the background and Rayna opened the door to find...
Teddy Conrad
After roaming the streets in front of Bosco's and Sam's (an establishment frequented by yours truly numerous times), Teddy met up with Peggy and ended up doing some naughty things of their own later that day.
Still, even though he cheated, and Rayna was obviously checked out of the relationship, I still thought he was going to say they should work things out when he showed up in Chicago. I was pleasantly surprised that he decided to take that time to ask for a divorce. Good for him. It was nice to see him step up and make that decision, and it will be interesting to see where his arc goes if his relationship with Rayna ends.
Rayna Jaymes
Other than reacting to the actions taken by Juliette, Deacon, and Teddy, Rayna kind of took a back seat this week. The most interesting thing to me - other than the moments I've already mentioned - was the idea of her signing Scarlett and Gunnar to her own label.
I love that it took Nashville Season 1 until episode 12 to bring this story back up. It was so memorable from the pilot, Watty White puts his phone in the air so that Rayna can hear the two youngsters singing, and it was awesome! But nothing ever happened...until now. Taking that time to do other things will hopefully make it that much more interesting in coming back to it like this.
The Kids Club
These three continue to be the least interesting aspect of Nashville, but I think that is more because of how awesome Rayna, Juliette, and Deacon are than the fact that Scarlett, Gunnar, and Avery are less so.
Of the three, I was most impressed with Avery just being all over the place. He showed up with his tv crew to throw his success in Scarlett's face. What a jerk! Then he comes over to apologize, and give her the money he owed her, but he immediately goes nuts over seeing Gunnar there. After getting his face knocked in, Avery then decides he doesn't want to sleep with his manager anymore and storms out. The kid is certainly next in line to figure out who he really is.
-------------------
All of that, and some more fantastic music! What did you all think of "I've Been Down that Road Before?" What were your favorite moments?  What were your least favorite parts? Did anyone Nashvillians notice that Avery was looking at "Nashville Scene" on his phone? And are you recovered from that kiss yet?
Dan Forcella is a TV Fanatic Staff Writer. Follow him on Twitter.