Love is in the air - and Cupid's been a busy boy on the small screen, as many of his arrows have already hit a handful of couples.
In anticipation of tomorrow's romantic holiday, here are some of TV's most happily married twosomes. Ready to select your favorite pairing?
-------------------------------------------
Peter & Elizabeth Burke (White Collar) He's an FBI agent. She's an event planner. He loves baseball. She's a music fan. Whether it's having one another's backs or saving conman, consultant, and friend Neal's behind, Peter and Elizabeth's love has been unwavering from day one.

Marshall & Lily Ericksen (How I Met Your Mother) They've managed to hold onto one another while their friends flounder about looking for love. With baby Marvin making these two a family, Lily and Marshall are definitely in this for the long haul.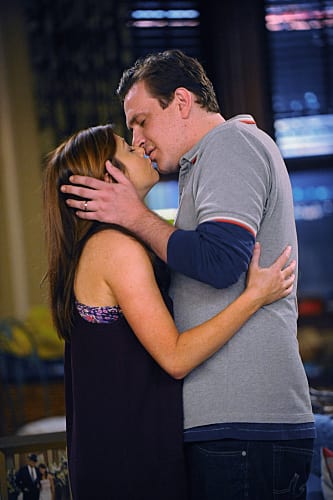 Claire & Phil Dunphy (Modern Family) She's the control freak. He's the happy go lucky dad. Despite their three challenging kids, Claire and Phil still find time to find some romance. That's why Agent Clive and Julianna make an appearance every Valentine's Day.

Snow White & Prince Charming (Once Upon a Time) They've lived through curses, an evil queen, several separations, and multiple identities, yet Snow and Charming always find their way back to one another.  They are the fairy tale.

Mitchell Pritchett & Cameron Tucker (Modern Family) At uptight lawyer and a free spirited music teacher, you'd think Mitch and Cam would make one another crazy. Well, they do but in all the best ways.
Danny & Linda Reagan (Blue Bloods) Two high stress jobs (he's an NYPD detective, she's an ER nurse) two kids, a mortgage and the cost of private school keeps things from being easy for Danny and Linda. But it's their faith in one another and the importance of family that nourishes their unbreakable bond.

Jay & Gloria Pritchett (Modern Family) Despite the age difference, Jay and Gloria just fit.  With baby Fulgencia (aka Joe) they are one another's second chance at happiness and neither one of them is willing to let that go.

Adam & Kristina Braverman (Parenthood) A grown daughter in college, a teen with Asperger's and a new baby have kept Adam and Kristina's life from being dull. But Krisitina's recent battle with cancer has made them closer than ever.

Angela Montenegro & Jack Hodgins (Bones) Hodgins is a scientist. Angela's an artist. He's been known to run amok with conspiracy theories. She's got a retro-hippie side. But somehow Hodgins and Angela were simply made for one another.  Even if all of his money is gone, nothing will keep this couple apart.

Jim & Pam Halpert (The Office) Jim may be in Philadelphia and their latest phone call may have ended with Pam in tears but that doesn't mean this couple doesn't have something special. Will their love sustain them until the series finale?

Did we leave anyone out? If so, add them in the comments below and choose your favorite happily married couple for this Valentine's Day.
C. Orlando is a TV Fanatic Staff Writer. Follow her on Twitter.