Well, I'm going to have "Jolene" stuck in my head all night now, but it was worth it to see George serenade Tansy's dog. Is that man not that sweetest!? And hello shirtless scene!
Wade takes a lot of credit for Bluebell's most famous washboard abs, but "Take Me Home, Country Roads" let us all acknowledge what George Tucker has on underneath that button down. Amen.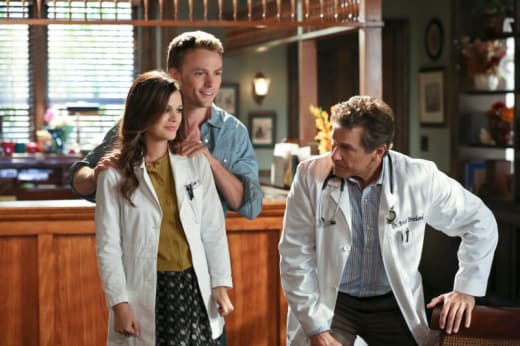 Despite babysitting and then losing Tansy's dog on this week's Hart of Dixie, George and Tansy now seem to be stronger than ever. I wish I could say the same for Zoe and Wade, but those two hit a new bump in the road what seems like every Tuesday. Let's hope they can keep patching things up because I felt so bad for Lavon sitting on the couch with those donuts eating his feelings; we don't need to see all three of them heartbroken.
Obviously, what Zoe said about Wade's job slipped out and wasn't meant to upset him but sometimes she needs to take her criticism down a peg. In the end it worked out because Wade was reminded of how happy he was when he was working on opening his own bar. But what if next time Zoe makes a criticism it isn't something constructive? I get that she was on a high after the way everyone was treating her, but it's important to remember that Wade always spoke to her even when the rest of the town kept up an icy demeanor.
I'm gettin' a little tired of having to appreciate you by myself, if you catch my drift. | permalink
I think we all catch your drift, Wade. You're one of the horniest people east of the Mississippi. And the pet cemetery? Really? That feels kinda dirty and not in a good way, but, hey, whatever floats your boat. Did anyone else catch a little flirtation between Zoe and Jonah Breeland? He was quite cute, but Zoe and a Breeland? I just can't see it.
Speaking of the Breeland, there already is a Lemon 2.0 and her name is Magnolia. Quit it with the nice act, Lemon, we all know what you're made of. I know she was genuinely hurt about Annabeth and that does suck. It seems like there should always be clear cut rules about dating someone your best friend had feelings for - but Annabeth developed feelings for Lavon before she knew about him and Lemon.
According to girl code and any sense of friend morality, Lemon has the right to be upset. BUT Lemon should've made it clear to Lavon she still had feelings for him. Instead she hid it when he was pissed at her and moved on to Walt. 
Lavon isn't a mean guy and I don't think he would've pursued Annabeth had he have known her best friend was still in love with him. He did, after all, have feelings for Lemon for a long time. I would say it must get tricky in a small city like Bluebell but the truth is this kinda thing goes on all the time, no matter the population size. People fall for who they fall for. I would be lying if I said I didn't have sympathy for Annabeth as well. It's an all around crappy situation. The one thing I will say is that Annabeth should've spoken to Lemon before she slept with Lavon.
Well, hey, at least one Breeland is happy romantically! Shelby is a pretty good dancer and she truly is into Brick. I'm glad Brick introduced her at the party. Somebody's love life has to go right and Brick is also dealing with his patients leaving him for Zoe. 
Do you blame Zoe for indulging in her newfound popularity? Do you think Zoe and Wade will make it? What's your take on Lemon and Annabeth's fight? Hit the comments and enjoy humming "Jolene" all day long!