In "A Giant Gun Filled With Drugs," Sherlock reunited with his former drug dealer, Rhys. They are both exes in the drug ring and both phoenixes who have risen from the ashes, as Sherlock says.
We were also taken on a different case where, instead of following a murder, we were tracking the ticking clock of a kidnapping.
Oh, and Watson was held at gunpoint!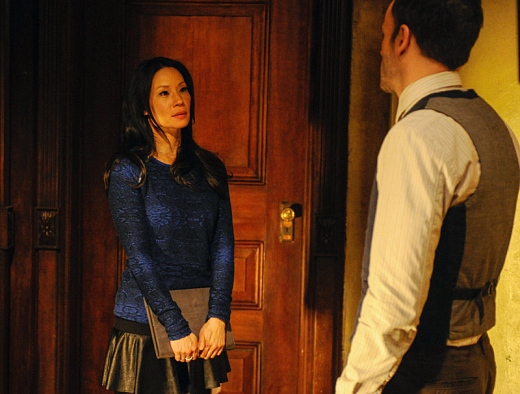 With the exception of Rhys' belief line, I really didn't like him. Especially when he was trying to convince Sherlock that he was a better detective when he was using, trying to edge him to try it again. Holmes' reaction when he threw him into the chair didn't seem like it was enough. I was hoping he'd toss him through the window and scream multiple obscenities at him.

Following a case that didn't involve a murder felt like a nice emotional break after Sunday's extra bloody Super Bowl episode. However, it was a race against time and I felt like Sherlock had finally been stumped. But, as usual, I was wrong.

I must say this: #thatawkwardmoment.

One of my favorite moments took place when Watson was laying down the law. I wish we saw this more often. She stood her ground against Rhys and after her little speech I exclaimed: "DAMN, You go girl."

Rhys said it best: he is staying composed because he believes in Sherlock Holmes. I do, too. I feel as if we should make "We Believe" shirts for Sherlock. I wonder if Joan would wear it? I bet that Holmes definitely would.

I didn't see the small twist of the cartel guy being an undercover DEA agent. I truly enjoy moments like these, the little additions that are thrown our way.  We don't see them coming and their moments are so small yet so fulfilling. The best part of these moments? They always come back in play.

Enter DEA Agent coming back and holding Watson and Rhys under gunpoint. Wait, what? This was the big twist that I didn't see coming whatsoever. Good on you, Rhys, trying to save Watson.

The ending was then my favorite part. Sherlock revealed that he did not do cocaine and that he wants to share his story with his addicts group. He also wanted Watson to be there, next to him. These two are best friends forever.

Three episodes of Elementary in the span of seven days and I feel like I could watch many more!

Tags: Reviews, Elementary
Want more Elementary?
Sign up for our daily newsletter and receive the latest tv news delivered to your inbox for free!
More From TV Fanatic

On tonight's Gang Related, Ryan was forced to make a difficult decision. Which side did he chose?

On the latest episode of Satisfaction Neil learns an important lesson about being honest with himself from Adriana while Grace struggles on her new job. Read on for analysis.

Oliver turns down extending his contract as Acting Staff Sergeant until Duncan's dismissal hearing turns unpredictable on Rookie Blue.

On tonight's The Bridge, Marco is made an offer that he initially refuses. Will he agree to go after Fausto?
---