What do T-Bag and Alaric Saltzmann have in common? Well, okay, not a lot. But the men behind those characters? They have Cult in common, as the leads for the CW's chilling new series about what might happen when the lines between fantasy and reality are blurred.
As a show within a show, Cult is unlike anything on television right now.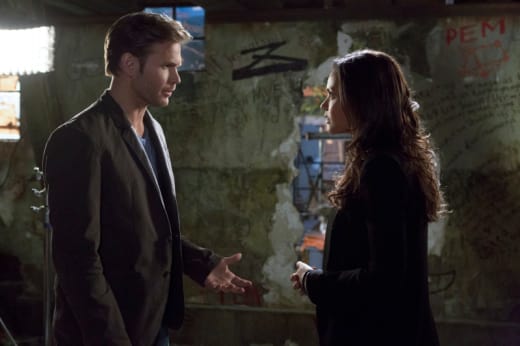 Cult's Pilot was a little confusing at first. It began with a scene from the show within the show. Kelly (Alona Tal), a former member of the cult led by Billy Grimm (Robert Knepper), has become a police officer. She and her partner are searching for her sister whom she believes to have been kidnapped by Grimm's cult. Kelly finds her brother in law plastered into the wall but he is unable to tell her where she can find her sister and nephew before he dies.
Then we're brought into the Cult's reality where we realize that what we've just been watching was part of a show new to the CW. 
Are you confused yet? Because I'm confused trying to explain that. 
Nate Sefton is an obsessed fan of Cult. He sits at a computer in the Fan.Dom.Ain Cafe and believes he's found a clue to unlock a new secret about the show but becomes paranoid and meets with his brother, Jeff (Matt Davis), to ask for his help. Jeff wonders if his brother is back on drugs until he receives a mysterious phone call from Nate and goes to Nate's apartment to find a chair covered in blood.
The police are reluctant to help Jeff, also believing that Nate was on drugs. 
Skye, a researcher on the set of Cult, begins looking into the various fan sites surrounding the hit series and discovers that some of them seem designed to keep people out rather than let them in. She feels that some fans of the show seem scared by what they see. Scared of coming to actual harm.
When Jeff arrives on the Cult sound stage to ask for a meeting with the show's producer, Steven Rae, the two team up. Skye is the only person so far who believes Jeff's story. Jeff is the only person who will listen to Skye's thoughts about the more obsessive fans of the show.
Skye is no stranger to disappearing relatives. Her father vanished without a trace 10 years earlier. Because of that, she is interested in seeing Jeff's quest to find his brother through to the end. 
Interspersed with the scenes of Jeff and Skye's search for Nate are scenes from the TV show. They mimic events happening in Jeff's world. When a character on the show commits suicide, so does Merriam, a friend of Nate's. Billy gives Kelly a pair of 3D glasses. The same glasses Nate gave to Jeff before he disappeared. 
And then there's the repetition of the phrase: "Well, hey, these things just snap right off."
That phrase is deliciously creepy. As is every word that falls out of Billy Grimm's mouth. Knepper plays twisted and creepy like no one else.
If the bizarre Cult followers and their kidnapping of those who know too much weren't enough to draw me in, the final scene, with Jeff's information being transmitted and Nate's warning phone call, definitely did.
Consider my curiosity piqued.
While there are some confusing moments that will take an episode or two to get used to, Cult promises a wild ride of twists and turns like no other, and begs the question "what happens when fans take a show too far?" The idea that Billy, or Roger Reeves, the man behind Billy Grimm, has brought his fictional cult to life is eerily fascinating and fun to watch.
And if nothing else, it's always good to be able to ogle Matt Davis again, right?
What did you think of the Pilot of Cult? Are you as intrigued by the concept as I am? 
Miranda Wicker is a Staff Writer for TV Fanatic. Follow her on Twitter.