"Restless" took a slightly different form for a typical Cougar Town episode.
The comedy was there, of course, but the stories for the cul-de-sac crew weren't in place solely to tell a joke or pick up on some odd character trait to run with for the entire episode.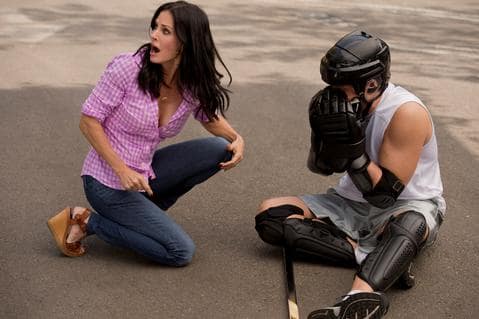 Indeed, the arcs and the interactions didn't try to shoehorn an absurd amount of comedy into 20 minutes. Rather the humor was paced and methodical and things felt genuine and fun. For the most part, everything just felt good. "Restless" wasn't a episode where I was laughing so much as I was enjoying spending time with characters I've known for four seasons.
It's easy to tell that Bobby is a stand up guy to not only accept the reasons why his marriage fell apart, but to also let one of his best friends marry his ex-wife (even if Jules and Grayson don't need his permission), while also passing along information in the areas where he failed her and the areas or situations he knew how to fix.
And now, thanks to Bobby, there needs to be far more use of flipbooks for educational purposes in Cougar Town Season 4.
Most of the comedy tonight came from Ellie as she tried hiding from Andy when he cashed in nearly every sex coupon Ellie had given him over the years, and eventually Ellie hid at Laurie's place; now, thanks to Laurie, I want to watch Fatty Cakes.
Finally, it's about time Travis gets pulled back into the gang's antics. Every year we get a pretty substantial Travis-centric storyline, and so far the only story we've tapped danced around is the aftermath of his drunken confession to Laurie last season. As much as I love green screens and nerd jokes (and his vastly improved haircut) it's time Travis finally receive full initiation into the crew since his age doesn't feel like a hindrance anymore.
A Few More Thoughts
The Tomato Cage dance is for professionals only.
Grayson being terrible on roller skates is a callback to prior seasons.
Jules just wants to be a Disney princess.
Why is it not surprising that Tom is still by Jules' window at night?
Tonight in Cougar Town music - "Give Me Love" by Ed Sheeran
Things Ellie Would Never Say:
I've had enough wine.
Yes, yes.
I agree Jellybean.