Valentine's Day is upon us and with Castle declaring his status as the gift ninja on Monday, what could possibly go wrong?
Below, our Castle Round Table team of TV Fanatic writers Jim Garner, Carla Day, Chandel Charles, and Christine Orlando are joined by Castle fan Kriss from The 12th Castle Fan Forum as they discuss the biggest surprises in "Reality Star Struck" and whose Valentine's gifts were a hit or a miss.
-------------------------------------------
What was your favorite scene?
Jim: I really enjoyed Rick talking about being a gift ninja and then it back firing so badly on him. 
Kriss:  Can I say the entire episode? Okay, of course it was the end scene, in Beckett's bedroom, when she gave Castle his Valentine's Day gift. The drawer, not only in her home, but in her most intimate space. Not only her bedroom, but her heart, too.  And THAT is something money cannot buy!  I also have to mention, that Kate channeling Penelope while interrogating Bob had me in hysterics!  Completely hilarious!  Just another incredible example of Stana's versatility in showing off her acting abilities. 
Carla: It was a single moment: When Castle understood the true gift that Beckett gave him.
Chandel: Probably when Castle realized he had put the earrings in the wrong blazer---priceless!
Christine: I've got to agree with Chandel. Watching Castle's realization that he'd slipped Kate's gift into Gates' pocket was beautiful thing. The aftermath of him struggling to retrieve it was even funnier.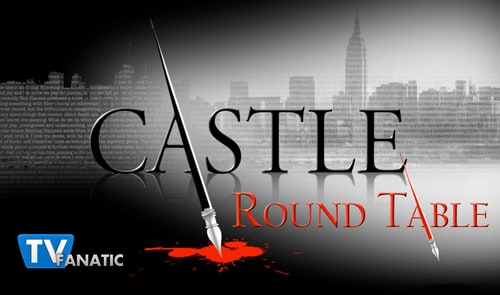 Did Beckett and Castle pick the right gifts for one another?
Jim: Getting a drawer was awesome, but really subtle. My wife picked it up right away and I had to have it spelled out. Of course jewelry is always popular with women, thought I don't see Kate as a big formal jewelry wearing woman, but that's just me.
Kriss: Definitely. Castle was trying to give her a beautiful piece of jewelry, but the note inside, that was the true gift. Too bad she didn't get to see it, but we know what it said: beauty, passion, fierce intellect - love that. 
And Kate's gift to Castle, for such a personal holiday as Valentine's Day, was perfect. She gave him a piece of her heart just laden with meaning. She was telling him she wants him, welcome him, and trusts him, in the most intimate spaces of her life. Castle's response completely showed that he got all of that! Their looks/expressions, and kissses melted my heart! I think I even stopped breathing!
Carla: The drawer was perfect! Beckett's had a wall up for so long, but has finally let Castle in. This gesture was a huge step for her. Though, the drawer was pretty small! Castle though ... expensive earrings for Beckett? Boring! Whether he gave it much thought or not, it's a cop out. The only excuse would have been if there had been a meaning behind them, but there wasn't. Bad gift, Castle.
Chandel: I think Beckett did a better job than Castle simply for sentimental reasons, but those earrings were gorgeous!
Christine: The earrings were cliche but they were also gorgeous and i think Castle is trying to play it safe still. Plus Kate had previously asked for jewelry. The drawer was wonderful as were her smile and his reaction but darn it was small. Besides socks and boxers I don't think he can fit much else.

Do you watch any reality TV? If so, pick your favorite?
Jim: I'm so hooked on "the wars" from three versions of Storage Wars to Shipping Wars I'm a huge addict!
Kriss: No. I'm with Ryan on this one. They give me a headache.
Carla: I don't watch much reality TV. Though, like Jim, I do watch Storage Wars. My aunt and uncle raved about it and got me hooked. I don't watch immediately, but DVR it for those times I want something mindless to watch before sleeping.
Chandel: I watch Dance Moms. I know, it's terrible and Abby Lee is a tyrant, but it's so fun to watch her completely dominate the mom's. Everyone on that show has such a big personality and it's just wildly entertaining!
Christine: For my job I watch most of The Real Housewives franchises. They are like watching a train wreck. You know you should turn away but you can't quite bring yourself to do it.

Biggest surprise: Gates is a reality TV fan, Lanie and Esposito are back together or that, if only for a moment, Gates thought that Castle might be hitting on her?
Jim: While they were all surprising, what makes Lanie and Espo being back together such a shocker was that Kate knew! I swear I'm never playing poker with her.
Kriss: That Gates is a reality TV fan!  I was totally like, "WHAT?"... and was with Castle on this one!  Gates seems like such a no-nonsense kind of lady, and well, yeah, totally blew me away that she would entertain such things, but, hey. We all have our guilty pleasures. And maybe, just maybe, tough, by-the-book "Iron Gates" is a little more fun than we think!
Carla: Definitely that Gates thought that Castle was hitting on her and with jewelry?!? That was pretty unbelievable. Though, she did find the  earrings and note in her pocket, so I guess what else was she supposed to think ... oh wait, that maybe he had a thing for Beckett! Gates is not a stupid woman.
Chandel: Probably than Lanie and Espo went out---on Valentine's Day, of all days. I didn't really get the feeling they were back together prior to this episode, so for them to step out on this episode as a reunited couple was a bit out of left field for me!
Chrisrtine: After the Christmas episode, I never expected Esposito and Lanie would be heading on the town for Valentine's Day but I'm thrilled. Lanie looked great in the dress and I loved that Kate had to tell Castle "eyes up"

Will Castle ever win over Gates? Do you want him to?
Jim: She's got a soft spot for him. Sadly, I couldn't care if he ever wins her over. It seems the only time we see her is when she adds a small piece to the case and then spends 20 minutes bragging about how she did so.
Kriss:  I think she finds his antics amusing and over-the-top, and, honestly, I think she knows about Rick & Kate and is playing along, because if she acknowledges that she knows, she will HAVE to do something about their "work relationship." I don't think she wants Rick to go anywhere, either.  Even with all his hi-jinks.  One day, I do think he will genuinely find respect from her.  Do I want him to? Doesn't matter to me much, because hilarity with direct encounters with those two abounds and who doesn't love that!? But I honestly want her to respect Castle. For his sake, I would love to see it.
Carla: While Gates doesn't always show it, she respects what Castle brings to the team. She will always have a problem with his being forced on her, but that doesn't mean she doesn't like him. I like their relationship as it is now.
Chandel: I think the drama between them is one of the entertaining pieces of the show that I like to get a sense of every once in a while, just to see if there's been any improvement in their relationship. I think the writers could milk it a bit more, though.
Christine: I think she respects him a bit more than she did in the beginning but she'll never get over being forced to keep him around. Besides, I love that there's someone who is completely immune to Castle's charms.

What's been your favorite Valentine's gift you've gotten or the one you hope to get some day?
Jim: My wife got me a Stich figure doing a hand stand on a heart that says "be mine." I love Stitch and this is still one of my favorite gifts, simple but shows how well my wife knows me.
Kriss: Funny you should ask. After being married 21 years, I've had some lovely ones. But, I have to say, it's the one this year, that I just received this past weekend, that is quite remarkable. My husband bought me a copy of "Frozen Heat" signed by Nathan. The purchase also was to benefit "Kids Need to Read."  I call that a pretty special win all around.
Carla: Valentine's Day gift? What's that? I can't think of anything extraordinary that I've ever gotten or would want to get for the holiday. It's not a day for extravagant gifts. Keep the expensive roses and give me a few daisies.
Chandel: I struggle between the year I got an American Girl Doll from my Nana and the beautiful necklace that my boyfriend got for me last year, which he purposely chose on the premise that it matched the watch he had gotten me for Christmas. I hold both gifts very dear.
Christine: I'm with Carla on this one. I can't even recall the last Valentine's gift I received and I'm not even sure what I'd ask for... but daises sound lovely.
C. Orlando is a TV Fanatic Staff Writer. Follow her on Twitter.