137 days have gone by and Frank is missing. Of course, since this is Frank Gallagher we're talking about, nobody is really worried except for Deb, who is holding a vigil until his return.
He'll come back Debs. Frank is like scabies. You can't get rid of him no matter how hard you try. | permalink
In "El Gran Canon" we caught up with all of the Gallaghers including Frank, who unsurprisingly ended up in Mexico after a long bender.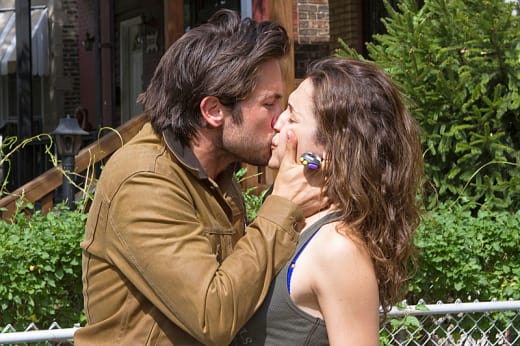 The season premiere of Shameless was all about fathers: the aforementioned missing Frank, Jimmy's dad who is still hooking up with Ian and Estefania's druglord father who just rolled into town.
Only one of these three men really made me feel troubled and that was Estefania's father. It took the entire Shameless Season 2 for Jimmy and Fiona to get together. I mean, we are talking right up until the last second. By the way, I'm officially calling Steve by his real name now: Jimmy. Even though Estefania's father calls him Steve, it's going to be too confusing going back and forth! Also what ever happened to the possibility of Estefania and Lip hooking up?
If Jimmy's lying to Fiona to protect her, it's going to backfire. Fiona isn't a girl you can pull a fast one on. He should know this by now. There's no way that she's not going to find out what's going on, especially since he's supposed to act married to Estefania now. Honestly, I don't like this storyline mainly because I don't need to see someone going all Dexter on this show. I think there's enough grittiness already. I want Fiona and Jimmy to have a real shot. I don't think they'll ever really be boring even if he's acting all like Mr. Mom.
Then we have Ian with Jimmy's dad, Mr. Sugar Daddy. When Ian said that he had a boyfriend coming back to town, I was like ugh not Mickey. I seriously feel like i can smell him through my TV. Mandy, on the other hand, has really grown on me. I loved seeing Lip, Ian and Mandy as a team. I'm also thrilled that Lip is not with crazy Karen, who past readers know I was not a fan of. Even if he's still stealing, Lip is smart as hell and he has options in his life when he's not hung up on a toxic girl.
That leaves us with Frank. It's sweet that Debbie always cares for Frank and has faith in him despite, well you know...everything. Somehow he ended up in Mexico and in order to get back over the border he smuggled not 18, but 19 balloons of coke in his rectum. SERIOUSLY. This earned him the nickname "El Gran Canon." So sweet. The writers of Shameless somehow find ways to amaze me every single week when testing the capacity of what Frank's body can take. 
Overall I really missed the Gallaghers. I'm curious to see how Fiona does managing the club but I really think she has the chops to pull it off. Obviously it's never easy for any of them to make money or Kevin and V wouldn't be playing slaveowner sex driver for the webcam, but I think Fiona could be good at the club gig. 
Aside from Frank thanking Sheila after he crapping out the 19th balloon of coke, Sheila and Jody's storyline was boring. I kind of forgot about them. Although her insult to him "a goddamn ponytail Fabio motherf*cker" was hilarious.
What did you all think of the return of Shameless? Was it a letdown or was it everything you hope for and more?