Promotional photos from the February 10 Revenge wedding episode have been released, and they certainly hint at a happy ending for Jack and Amanda, who tie the knot in an intimate beach ceremony.
Of course, just one week later, at least one character dies.
Revenge Season 2 has been building toward the February 17 episode when Jack's boat, the Amanda, sinks to the bottom of the ocean, as seen in the very first shot of September's season premiere.
Before we find out who sinks with it, the "Union" of Jack and Amanda takes place when the ABC drama returns one week from Sunday. Looks like none other than Nolan Ross is the officiant!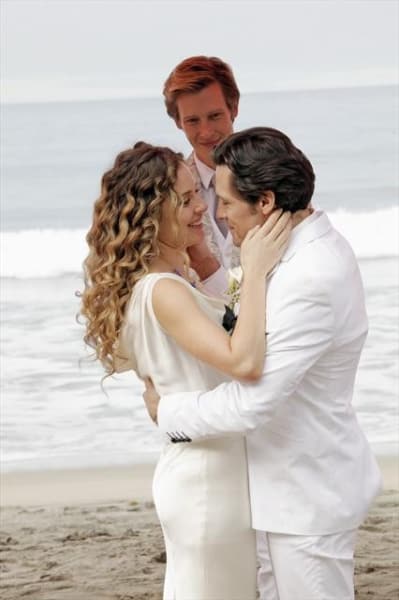 The wedding obviously conjures up emotions - and memories - for Emily, who apparently recalls another "wedding" a long time ago. Or it could just be a dream. We'll have to wait and see.
In any case, young Jack and Emily look to be exchanging vows in the same spot as David Clarke and Sammy look on. For the real Amanda Clarke, the 2013 wedding can't be entirely easy to watch.
On the surface, at least, she seems (mostly) happy, and it's hard to imagine a more perfect union. Some of the group photos are very sweet, and the whole gang looks great in their wedding attire.
The Graysons, meanwhile, are clearly up to something. It's unclear what, but now that Conrad's working his own angle and entwined with Jack's storyline, this happy union could be in jeopardy.
Will these two live happily ever after? Have Jack and FauxManda grown on you as a couple since last year? Click to enlarge the photos from "Union" below and share your comments/predictions!
Steve Marsi is the Managing Editor of TV Fanatic. Follow him on Google+ or email him here.