Despite the decent ratings for Parenthood Season 4 and the generally good press it receives, it's clear Jason Katims doesn't have high hopes for a season 5 pickup.
"Because You're My Sister" was about as close to a series finale as you could get without actually cancelling the show. 
Because of the swiftness of pace and resolution-packed hour, there were some incredible scenes mixed with some that felt a bit rushed, as if giving fans closure to the Braverman family saga was more important than telling stories in the way we have become accustomed to: with care and precision.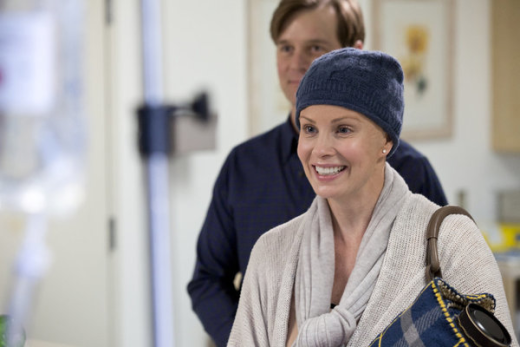 The same could be said for the abortion story line between Drew and Amy on "Small Victories."

It seems now, looking back, that it was squished into the season for a specific purpose outside of anything to do with the tale of the Bravermans. Sarah was torn between two lovers and excited for her son to be attending Berkeley, but the awkward moment when Drew tearfully approached her, we assumed to tell her about Amy's abortion, was never mentioned again. That was a missed opportunity, as some of what we saw play out tonight might be if the show does get picked up.

My views are being slightly biased by the obvious series finale feel and my love of the Bravermans. It feels unfair that such a quality, well written and emotionally driven drama should be overlooked by so many. Watching the characters live out what appear to be their happy endings, secondary persons included, sent my hopes for a renewal plummeting to the basement. So take it all with a grain of salt. And a sip of Chateau "Do It."

Two of the most amazing moments of the hour were when Ryan shared his feelings with Amber and shortly thereafter Mark let his be known for Sarah. Matt Lauria and Jason Ritter took their scenes and utterly convinced me of their love for the daughter and mother team, played by Mae Whitman and Lauren Graham. It's rare when either actress lets the actors get words in edgewise, but they played against their male counterparts brilliantly. It was a perfect example of casting, characterization and writing culminating in excellence.

It was fairly easy to guess Sarah was going to choose Hank, but it didn't make the act any easier to live through. Her delivery was abrupt and felt inappropriate at Mark's place of work. Being just short of tears before heading back into a class must be just this side of hell. His happy ending was walking down the halls of the school, his head held high. He's Mark Cyr. Somebody will love him much deeper than Sarah did.

Sarah made the choice to make things work with Hank just as he decided his future was in Minnesota with his daughter. Now that both of her children are grown and out of the house and they showed Hank happily tossing snow with his girl, what are the odds Sarah will take him up on his offer to move there with him? She said she wanted to get her life together and make things work. Maybe it's time to cut the ties from mommy and daddy and try living on her own again. It might be just what she needs for her own happy ending.

Amber met Ryan note for note with her own emotional plea for love and responsibility from him. She finally confided in him about her terrible car accident when she had reached her darkest despair after being denied admission to all of her college choices. She really has had a tough four years, but the best was saved for last. Ryan and Amber will go the distance, and if their stroll down the street gazing into jewelry stores at vintage engagement rings meant anything, I'm not the only one who thinks so.

Right on schedule, Crosby and Jasmine prepared to celebrate their wedding anniversary. Jasmine was feeling extremely uneasy about her mother and was just about on my last nerve when she pulled a fast one and announced her pregnancy to Crosby. We can only hope the love they all share - and it is there, even behind the twisted verbal barbs and jabs they sling around at each other - is cemented with the addition of another child. And since they have the money to do it, here's hoping Crosby buys a new house. Seems a new room or two will definitely be needed!

As Kristina faced her last chemotherapy session, Adam tried to surprise her with a getaway, but fear of relapse was too much for her to take after seeing her first fellow cancer patient and friend had done just that. As this was the happy ending finale, she was cast free of any doubt by the end and she and Adam walked hand in hand into the water from the beach on a Hawaiian island. 

Victor and Julia seemed to overcome all of their differences in the span of a week, and all animosity was gone between them. Sydney was being her normal, bratty self, but even that didn't phase Victor as he prepared to become an official Braverman. They became brother and sister in pretty much the same way birthed children do, one day they just stopped hating each other. 

At the ceremony, everyone was there and pledged to love him as the aunt, cousin, grandparent, uncle, etc., that comes with being a Braverman. Victor called Julia mom. Just like that.

It was really all a bit too easy, but if Parenthood isn't renewed, it's exactly what we needed to know life will go on. They'll continue to have their problems. Kristina's cancer may recur, Sarah may choose Mark again, Zeek may have a heart attack, Julia may go back to work. Jasmine may lose her baby, Amber and Ryan may break up. There are so many awful things that could happen during their lives, and if there is a season 5, we could see any of them, or none of them occur. 

But Parenthood always reminds us that no matter how bad things get, with your family to support you, you can get through anything. There will be another happy ending for you because you have their love. It might sound a little cheesy, but that's what I'm taking away from the finale. Things worked out well because they had each other to lean on. Thanks for being here, and I hope to see you back again for another (longer!) season next year.

Carissa Pavlica is the managing editor and staff writer for TV Fanatic. Follow her on Twitter and on Google+.

Tags: Parenthood, Reviews