New Girl Creator Speaks on The Kiss, Loft Repercussions, No-Nailing Oath
Matt Richenthal at .
It finally took place this week on New Girl.
Inspired by a women's trench coat or simply unable to mask his feelings any longer, Nick kissed Jess and viewers around the nation squealed in delight.
But what will the fallout of this spit swap look like? How will Jess react? Nick? The other loft mates? We jumped on the phone with creator Elizabeth Meriwether yesterday for answers to those questions and more...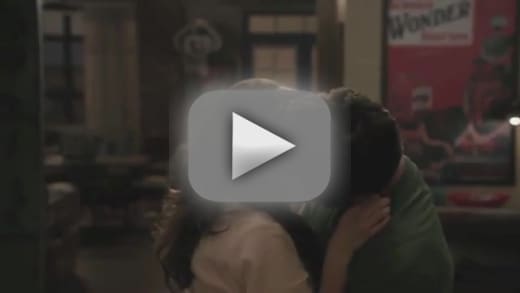 Why now? "It just felt right. We've sort of gotten to a place where it felt like organically, in their relationship, something like this could happen… It also felt like if we didn't have them kiss, it was kind of like pulling our punches; like we were not really being true to the characters in this moment. We were all ready for Nick to kind of step up to the plate and have a moment of confidence, whether or not it was the trench coat or not."
Where will next week pick up? "Right where this episode left off. Sort of like a continuation of that night and it just obviously rocks Jess's world and Nick starts freaking out about what he's done and they both are just grappling with how they continue as friends the way they were… it definitely pushes Jess into a place with Sam where she has to deal with whether or not this really is something that she wants to be in."
How will Schmidt and Winston react? On the February 12 installment, "Schmidt digs up a 'no nail' oath they all took when she moved into the loft where they all agreed not to nail her.
"Obviously Jess is mad about it and Schmidt is just dealing with the fact that the loft dynamics have changed in his view. It's been fun to write because it's definitely forced all the characters in to really strong positions, and instead of taking any tension out of the series, I think it's really actually ignited it and helped us focus it."
What about CeCe and Schmidt? Next Tuesday, "we end up in an Indian marriage convention with Cece trying to meet an Indian guy to marry... I think they're still really struggling with their feelings towards each other, even though they both keep trying to move on. That is definitely something that we are going to follow to the end of the season, just to see if Cece is going to take this all the way through and get married."
Are you glad Nick and Jess finally kissed?
Matt Richenthal is the Editor in Chief of TV Fanatic. Follow him on Twitter and on Google+.