It's 28 days past where we left the Necessary Roughness gang last summer - and Dani's got some strange "Frozen Fish Sticks" in her freezer. Oh, if that were her only problem.
Dr. Santino usually helps fix other people's messy lives, but this time it's her own life that needs fixing. So she's off to see old friend and colleague Dr. Gunnar.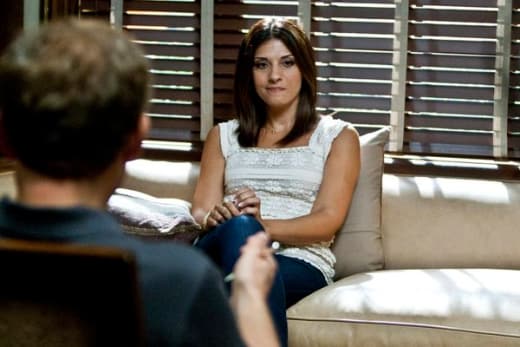 I hope Peter MacNichol sticks around for awhile. I love how he won't put up with any of Dani's avoidance tactics that she uses when it comes to her own life. 
According to Dr. Gunnar, I don't know means I don't want to tell you and anger is the consequence of being hurt. And best of all, he's forcing Dani to explore her feelings for Nico because as much as Dani's trying to tell herself otherwise, that kiss meant something.
She loves Matt but it doesn't change the fact that they are in two different places in their lives. Nico is dangerous and oh so attractive and the undeniable pull he has over her scares the heck out of Dani.
It's going to be a lot of fun watching the good doctor figure out what to do this season with her head and her heart at odds.
Back at The Hawks, TK got his one-month chip as he graduated from rehab. It's good to see him taking his sobriety seriously and that it's not easy. All of his old hangouts are now off limits. He can't go to a bar. He can't go to a club. So Matt takes him to play min-golf. Love it.
TK now has some competition on the field as Toes Kittridge is making his mark. The best thing about Toes is that his presence is showing us how much TK has grown since the beginning of the series. It's huge that TK can actually put his ego and personal animosity aside to give Kittridge advice and earn the team a win. 
And it says a lot about Kittridge that he takes all the credit for himself, but would TK have done the same back in Necessary Roughness season 1?
Julliette picks up the Pittman mantle now that her daddy is gone. It will be interesting to see this party girl try and get her act together and run a major league football team... when she hates football.
She and Ray Jay have some nice chemistry and, despite Dani's worries, it looks like they've already become fast friends. But the difference between 17 and 23 is huge. Not in number of years but in maturity. I see a bumpy road ahead for these two.
Speaking of Ray Jay, the spoiled brat deserves a smack for complaining about having to do community service and having his record expunged. He was growing pot in his mother's back yard! She could have lost her house and he could have ruined his future.
A couple of final notes…
How long can you keep a beta fish in the freezer?  Ew.
Was TK going to pay for those hot dogs?
It's very sweet that Lindsay tries to help her Mom by reorganizing the office. At least one of the kids is growing up.
Love the "Don't Yuck My Yum" Santino family rule.
How will Matt deal with watching Dani with Nico? He doesn't seem too happy with even the possibility of them being a couple.
Are you Team Matt or Team Nico? Should Dani continue her therapy this season? Should Juliette stick around…and get to know Ray Jay better?  What did you think of the winter premiere of Necessary Roughness?
C. Orlando is a TV Fanatic Staff Writer. Follow her on Twitter.