Modern Family Review: Kill Them With Kindness
Leigh Raines at .
Phil Dunphy has always been a man with a kind word and a kind gesture. However, in "Fulgencio," he finds out that sometimes killing people with kindness isn't the best way to get results.
This is especially true when dealing bratty and mercurial teenagers. Good thing he has Luke Dunphy, consigliere to his Godfather. Cue the accents and let's start hearing some offers we can't refuse!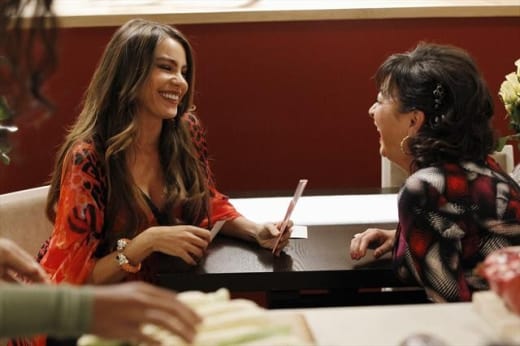 It's so typical that the kids would look for Claire to solve their problems. But Phil is really helpful if you have the patience for him to make a few mistakes. I think it's great that he tries to solve things by being nice to others. Plus, he isn't afraid to screw up. Even if that means he thinks that being a Godparent means wearing a fedora.
My favorite part of this week's episode was easily when Luke went all mafia at the end, full suit and everything. With dumb Dylan as his driver, he took down four problems in one fell swoop, including a very famous nod to The Godfather at the end, except it was a stuffed zebra's head in the bed, not a dead horse. I loved when Claire suspiciously told Phil everything she'd heard and he sat behind his desk with Luke at the helm. Don't ask Claire, just don't ask!
There was a bit of a role reversal this week as Jay became the desperate to impress son-in-law. Suddenly, he knew what it was like to be in Phil's shoes. As Claire was busy rubbing baby Joe all over her body, she explained the irony in it all.
Son of a bitch, I'm Phil! | permalink
Speaking of Claire's odd behavior., I've seen my oldest sister get that way now that her children are grown up. It's like new babies have this calmness and scent when they are still pudgy and sweet before they're talking back to you, spitting at your and throwing toys at your head. I get it. Then again, I also kiss my bulldog like Jay does. Maybe that's why I appreciate the Modern Family crew so much! They makes the littlest quirks relatable.
Even if this wasn't a TV show, I bet Sofia Vergara would actually look that perfect so shortly after giving birth. She is a true beauty. I liked get a look at Gloria's family this week. To see how they interacted with Jay was especially funny. 
Could you imagine if Jay ended up with Gloria's sister instead of her? I don't know that it would have worked. You could just see Gloria's guilt as her sister offered to do laundry and then asked where the river was. Gloria has such a specific brand of spunk that balances so well with Jay. Her mother Pilar was a pistol, no pun intended. 
This episode was sweet and involved a minimal amount of Cam and Mitchell arguing. Damn, Lily, has some attitude on her! Pretty hilarious that it came from Claire in the end.  What did you think of the Modern Family Christening episode?