Last Resort was all out of moves, as the show ended with "Controlled Flight Into Terrain," and given the circumstances, I was impressed with how well this wrapped up the series.
Those circumstances, for those of you living under a rock, were that the drama was cancelled just as it was filming the last couple of installments in its original 13 episode order. Obviously, the show's creators were hoping to get picked up for a full season and beyond. Alas, in the cruel world of TV, that was not meant to be.
The down side of trying to wrap up so many complicated storylines so quickly was that much of the action ended up taking place off screen. A general no no in visual story telling but something that was necessary given the time limits.
So scenes like Robert watching Andrew get killed by a nice woman in the elevator and Tani's brother getting beaten by Chinese prospectors were left to our imagination. And although some things felt rushed or a little off, many others worked brilliantly in this action-packed hour.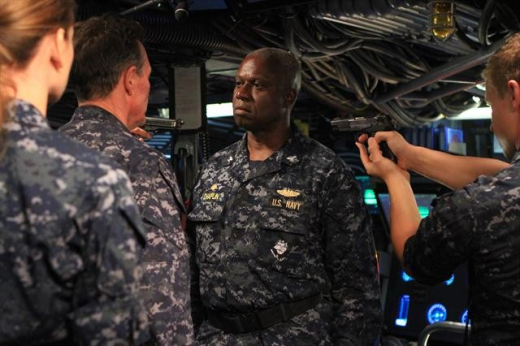 With Chinese warships on the way and a double mutiny afoot, if you blinked you probably missed something vital to the plot. Here were just some of the highlights, most of which took place on the Colorado.
Marcusstan: Population one. The face off between Marcus and Sam had been building over several episodes and this final confrontation between the show's two strongest characters made for some of the best scenes of the season. 
The two men went from snarkiness as they argued one another's faults... to incredulous acceptance of their inherent differences... and finally came back around to loyalty to one another and their ship.
And even as mutiny raged around them, there were moments of humor as in this Last Resort quote as they rehashed their tumultuous recent history.
Sam: You fired a nuke as a warning but I'm the one who needs my head examined? | permalink
Elsewhere on the ship, Prosser and Grace finally worked together when the COB's mutiny went awry and Anders, the rapist-turned-traitor, tried to sell the sub to the Chinese. It became the plot point that separated the mercenaries from the rest of the crew, no matter what their differences.
There were so many firefights that I'd begun to wonder how much the sub could handle.  But in the end, the Colorado was not meant to make it home as Marcus beached his ship before allowing Anders to fire his nukes.
Although I hadn't seen it coming, Marcus going down with his ship as it was destroyed made perfect sense. As he'd explained to Sam, that sub was his home. The crew his family. He ended things without regret.
Sam: I envy you Marcus, I really do. Even at the end you're right where you want to be. | permalink
Sam on the other handed wanted to get home…and seek vengeance. 

Island Life. Things wrapped up quickly on the island, although it was not nearly as satisfying. Sophie turned on Julian by helping Sam and Marcus destroy the Colorado before the Chinese could grab it. My problem with that was that I just couldn't see a man as power hungry and ruthless as Serrat taking that betrayal in stride, no matter how enamored he was with Sophie.

What the heck happened between James and Tani? As much as I liked both actors I never felt any chemistry between them. James' relationship with Grace was certainly more compelling. And Tani and James had such a great break up scene last week that their reconciliation felt hollow. I still can't imagine James being happy with island life for very long.

Back in D.C…things got even weirder. I suppose trying to wrap up the aftermath of a coup d'etat gone wrong couldn't have been easy for the writers. 

I was most disappointed in Kylie's story, probably because she had always been one of my favorite characters. Having Robert hold her hand on the gun as he shot himself was simply cruel. Having her shoot the President of the United States without any word about the aftermath was cruel to the fans of this smart, fiercely sarcastic character.

Christine's return was rushed but I did love her reunion with Sam. If a welcome home hug was all they had time to give us, the actors certainly made it count.

In the end, I was still left with plenty of questions about characters in which I've grown very fond. Special mention goes to Robert Patrick, who I've simply loved as the snarky but patriotic COB. All in all, the writers did an excellent job giving fans an exciting and satisfying ending under what must have been difficult circumstances and I appreciated their efforts.

Last Resort was a unique, creative, action-packed thriller and it will be missed.

C. Orlando is a TV Fanatic Staff Writer. Follow her on Twitter.

Tags: Reviews, Last Resort