The toughest, most sarcastic man on television is about return.
On Tuesday, January 8, Justified Season 4 kicks off with Raylan Givens back on the job and TV's most famous white hat back on top of his head.
But while it's no secret that bad guys shouldn't mess with Timothy Olyphant's U.S. Marshal, the opening two installments are filled with information being kept by various characters from those close to them.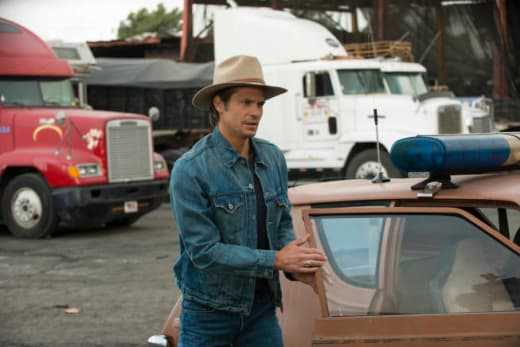 Among the secrets that play a key role when Season 4 begins:
Lindsey isn't being truthful with Raylan about their relationship.
Boyd is (literally) hiding something from Ava.
Arlo refuses to reveal key intel to Raylan after his son makes a discovery.
Fans will also be treated to bare buttocks and a classic Raylan Givens stand-off, all before the credits roll on the very first episode.
Visit TV Fanatic as soon as the season premiere ends for a detailed recap and review!
Matt Richenthal is the Editor in Chief of TV Fanatic. Follow him on Twitter and on Google+.