Hart of Dixie Review: 50 Shades of the Flu
Kate Brooks at .
The flu hit Bluebell in "Lovesick Blues," which brought old couples closer and new couples together.
For the most part I enjoyed tonight's episode, with the exception of Lavon and Annabeth. The greatest aspect, much to my own consternation? Zoe and Wade. For once their storyline was the most adorable and intriguing.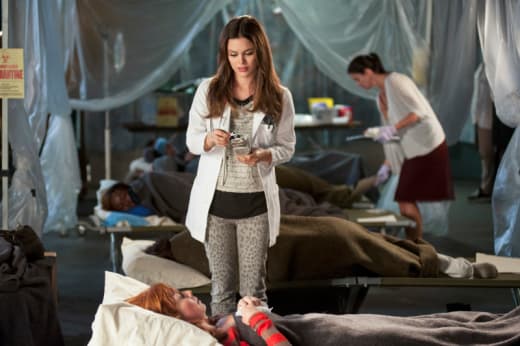 Finally, after many episodes absent, Rose returned! Her young character brings so much humor and lightness to the show that no one else can.
Rose is so unique, I really wish she were featured more often. She revealed that she didn't want to get sick because she had Black Keys concert tickets. Rose was mad because she couldn't go to the event due to the Bluebell lockdown, but let me tell you something: if it were me and I had tickets to see The Black Keys, I'd break any law to go to that concert. Girl, channel your inner rebel! Wouldn't that be a fun episode?
Rose also had forced bonding time with Magnolia and I feel like I've been waiting for these two to have this time for so long! Unfortunately, we didn't get to really see any dialogue between them other than Magnolia forcing her to stay. What we did have was Rose and Tonya (McKayla Maroney) convincing Magnolia to invite them to her party. Those two "nerds" were cracking me up. I love that Rose isn't the popular one and she has a friend who stays by her side. 
Zoe and Wade taking care of each other had to be the some of most adorable Zoe and Wade moments of the series. As each episode passes, these two gain more chemistry and become a stronger dynamic. I really am behind them in the long haul, their differences make them so great together. The fact that she wasn't worried about him cheating, she simply missed him... it had me saying, "awww." Don't act like you didn't. Wade has finally grown up and is this guy that Zoe shouldn't let go of. He's definitely a keeper.
I can't say the same thing about Lavon and Annabeth. 
I'm not behind this pairing because it's going to end badly for Annabeth. She is one of my favorite characters and putting her with Lavon will put a huge strain on her relationship with Lemon. I don't care how happy Dr. Dentist makes Lemon, she wanted Lavon first and we can all agree that Lemon will want Lavon again. On the other hand, I am happy that this is giving more for Annabeth because Kaitlyn Black is a great actress and deserves more screen time. I don't see this going so well.
Maybe I need to give them some time, but right now I don't like it. 
You know what I want to see more of? Wanda and Tom, specifically Wanda. She had some pretty funny Hart of Dixie quotes while she was lying sick in the bed. So give me more Rose, Wanda/Tom and Zoe/Wade adorableness and I'll be content. Also, how cute was that little boy eating all of the pies? He should be given more screen time too. 
The best part of the night: Lemon reading highlighted parts via Annabeth in the 50 Shades of Grey novel, which was followed by Lemon asking Annabeth how to seduce her boyfriend. I was dying of laughter. Hands down my favorite Annabeth/Lemon scene.