We're just days away from the Cougar Town Season 4 premiere and the cast informed reporters at this week's Television Critics Association press tour:
That means more nudity than ever before!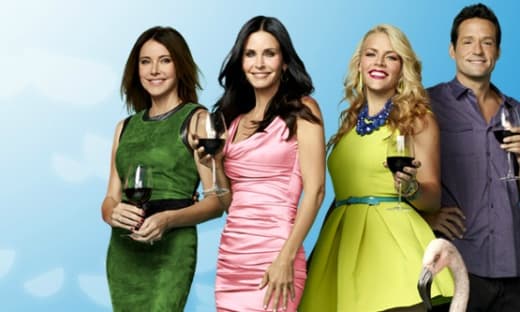 With the beloved sitcom moving to TBS, creator Bill Lawrence joked at yesterday's panel discussion that the cable network means a major change for Courteney Cox and company:
"One difference is Courteney did declare this year the year of her cleavage."
The star concurred: "You will not see one scene where I don't show my boobs."
As for what fans can actually expect from Season 4 (sorry, fellas), the cast and crew teased the following storylines:
Laurie's boyfriend will return from Afghanistan.
But, by the end of the year, Lawrence teased, the focus will return to the budding romance between Laurie and Travis.
And, okay, there will be some PG-rated nudity, as Jules and Grayson attempt to keep the spark alive in their marriage via "naked day." Lawrence said the idea stemmed from a writer on staff attempted this week his wife. The results? "It was sexy for about five minutes and then it was just two middle aged people standing around naked."
Cougar Town (yes, the name is staying) kicks off on TBS January 8 at 10/9c.
Matt Richenthal is the Editor in Chief of TV Fanatic. Follow him on Twitter and on Google+.