You know what they say about playing with fire: you're bound to get "Burned." On the winter premiere of Arrow, Laurel got herself involved in a dangerous situation by contacting The Hood for help on the special phone he gave to her father.
Now Quentin will use Laurel and The Hood's connection in order to nab him down. Kind of a cold move to use your own daughter to find the vigilante, especially when everyone is now calling him a hero. I suppose Quentin just has a one track mind when it comes to Arrow.
So what led up to this secret arrangement?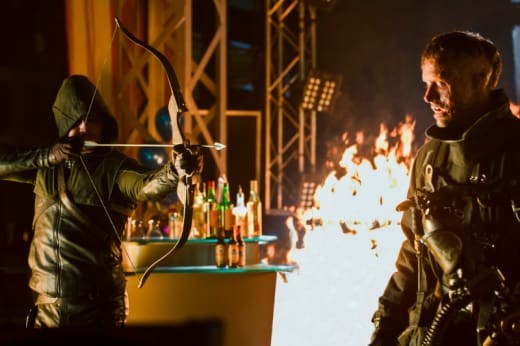 Laurel's coworker and best friend Joanna found out her firefighter brother was killed on duty in precarious circumstances. Sure, Daniel had a job that caused him to risk his life everyday, but the coroner reports showed that there was a third variable or chemical rather that caused Daniel to die. When Joanna begged Laurel for help, she couldn't find it in herself to refuse.
Laurel is normally the kind of girl who will take any chance in order to to the right thing and help other people. After all, that's why she took a job with legal aid. But Laurel especially knows what it's like to lose a sibling and feel like there is more to the story than you are getting. She knows what it's like to have that hunger for more information in order to get some piece of mind. 
With this mindset, she swiped the special Batphone, if you will, from her father's desk and reached out to the vigilante: a man she once referred to as a killer but secretly trusts more than she will allow herself to admit. 
Whoever this guy is, he's got a habit of putting himself between danger and you. | permalink
There's certainly no argument in Quentin's statement. The Hood has a tendency to protect Laurel and to the audience it's obvious why. With a little research and some coaxing from Diggle, Oliver pulled himself out of a six-week hiatus following his face-off with The Dark Archer. I must note, it was an interesting psychological observation that Diggle made about Oliver losing his spirit after that fight. Oliver was right when he said he had more to lose now, but Diggle was right when he said there was also more to live for and that's why he needed to fight.
This latest cast was solved fairly quickly with some research by Oliver and Laurel and in the end Oliver/The Hood was able to take out the bad guy in one fell swoop. So what if his club got burned up in the meantime? He's got plenty of money for those renovations and Tommy's certainly got the time. The most important part of this whole thing, besides saving a bunch of people of course, was that it gave Oliver the confidence to start paying attention to the list again. It's time for him to get back into the swing of things.
It's hard with Walter missing and there being no proof of life for six weeks, but if Oliver, Moira and Thea keep themselves busy and on track maybe they can make some progress and help get Walter back. After all, Walter is being held by The Dark Archer. 
What was with the flashbacks this week? I feel like we were teased without much payoff. What would you guys think of an episode dedicated entirely to an island flashback? Some people have been suggesting it.
Also am I the only one who wishes the show would balance out with a few light and humorous moments? Tommy renting out a football stadium to play strip kickball with models? I wouldn't mind seeing that storyline! 
What did you think of the winter premiere of Arrow? Hit the comments!