American Horror Story Review: The Circle of Life
by Carla Day at .
While I've enjoyed American Horror Story: Asylum, I didn't realize how much until I watched "The Name Game." I hadn't particularly missed the show over its short two-week hiatus, but once I started watching the episode, I was engrossed in the Briarcliff world immediately.
I especially enjoyed that the focus of the hour was back on the main characters and their journeys... for better or worse. It's not that I haven't appreciated the introduction of new characters to Briarcliff - such as, Anne Frank, the Killer Santa and the serial killer kid - I've just preferred when the show has centered on those we already know.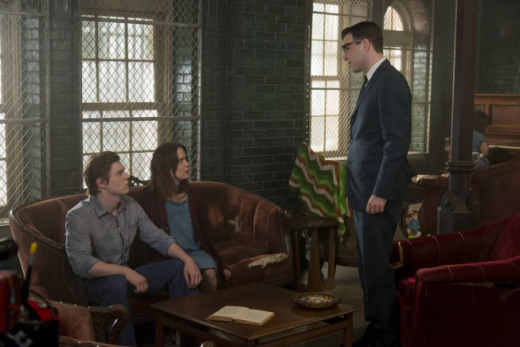 The pacing on "The Name Game" was a bit slow at times, though the overall story moved forward with resolution for some characters, which is reassuring since there are only a few episodes left in this anthology.

The evil inside Sister Mary Eunice has been a puppet master at Briarcliff. She created havoc throughout the institution, but finally went too far and was ultimately taken out. Her decision to help Killer Santa was what led to her demise. When he crucified the Monsignor, a series of events was set into motion that not even the darkest evil inside her could overcome.

Between the Dark Angel's words and the loss of his purity, the Monsignor had no choice but to sacrifice the innocent sister to get rid of the evil inside her. There was no hope in saving her, but the damage the evil inside did will last long after she is gone.

I worried that the evil spirit would move on to another person after Sister Mary Eunice's death, but that wasn't to be. The Dark Angel made sure to take both "souls" with her. All that was left was the empty, innocent Sister's body.

As evil as Dr. Arden first appeared to be, he was no match for the Devil or even the aliens. Those forces and the loss of his love, the true Sister Mary Eunice, was too much for him. He gave up on investigating Grace's pregnancy, killed his "creatures," and then he cremated himself alive with Mary. I almost felt sorry for him, then I remembered all the horrible things he did and his self-sacrifice was probably too easy an out. Though, given his Nazi background, the death by fire was quite fitting.

I wasn't sure what to make of Jude. The electric shock therapy certainly disrupted her brain and caused her to have mental problems. Despite that, Lana and the Monsignor both went to her. Will she recover? I hope so. Though, she did have the strength to at least try and help Lana by asking the Mother to get her out. Her song and dance number was certainly freaky, but quite entertaining. Another example of why Jessica Lange deserves many awards for her portrayal of Sister Jude.

Lana's still presumably pregnant and Grace had her baby. Is there a connection between their two children? And will Kit be reunited with his wife and their child?

The alien story is the least developed and the most confusing. I was thrilled to see that even though Kit gave up Thredson's confession tape to be with Grace and their baby, it didn't matter. Now that Lana has the recording, Thredson is going to have a much more difficult time retrieving it. After all that she has survived, she won't give up to him without a fight.

With only three episodes left, there is still much ground to be covered even with the two devils of Briarcliff dead. What do you think is going on with the aliens? The babies? Will the story have a happy ending despite all the horrible things that have happened?

Even though this story is coming to an end, American Horror Story has been renewed for season 3. Executive Producer Ryan Murphy told EW.com that a clue about the plot for the new installment would be revealed in tonight's episode.

My guess is the clue was on the record in the jukebox after Jude had her dance scene. It said, "Congress." Did you catch that? Or do you have another guess? 

Carla Day is a staff writer for TV Fanatic. Follow her on Twitter and on Google+.

Tags: American Horror Story, Reviews
From Around the Web