It's time to give the men a turn.
After asking readers yesterday to weigh in on the Best Female Performance of 2012 - which followed discussions of the  Best Couple to Best Villain, Best Feud and Best New Show of the year - staff members have now pulled up a virtual chair to the Round Table and answer the simple question below:
What was the best male performance of 2012?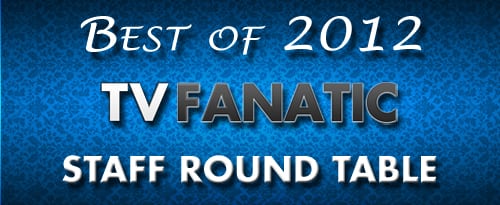 Kate Brooks: Stephen Amell and every single one of his abs. God bless all six of them and of course his physical and emotional portrayal of Oliver Queen.
Nick McHatton: Ian Somerhalder on The Vampire Diaries. On paper, Damon isn't a very likable or exactly deep character, but he's also none of those on the screen. Thanks to Somerhalder.
Gabrielle Moss: Bryan Cranston as Walter White. A performer so powerful, he got my situation-comedy-loving butt to watch prestigious dramatic television!
Dan Forcella: Agreed. He has enough Emmys to last him a lifetime, but Cranston's performance in these past eight episodes of Breaking Bad was even more impressive. The man deserves awards for the "Say My Name" scene in the desert alone.
Carissa Pavlica: Damian Lewis in Homeland. I never liked him as an actor before, but he amazes me. I never know what Brody's truly thinking and Lewis' every performance is both mysterious and solid. I'm simply blown away with every episode of Homeland based on the achievement of the two leads.
Sean McKenna: Andrew Lincoln. An underrated actor with exceptional performances, he's subtly transformed Rick Grimes from the quiet nice guy to a gritty and darker version focused on doing whatever it takes. Plus, Rick learning about Lori's death was the heartbreaking moment that really let Lincoln's skills shine. No other guy could play this great Walking Dead character.
Miranda Wicker: Michael C. Hall as Dexter. (Gah, what a SKILF.) But really, Hall's facial expressions when Dexter admitted to Deb that he was, in fact, a serial killer was eerie and awesome and the stuff awards are made of.
Leigh Raines: We need some comedy up in here so I'm gonna go with Adam Pally on Happy Endings. And Damon Wayans Jr., too. Let's call it a tie.
Matt Richenthal: Yes, we do, Leigh, so I vote for another tie: Jake Johnson and Max Greenfield in New Girl. I enjoyed this sitcom even when it was just a Zooey D. vehicle, but the transformation into a true, uproarious ensemble has been led by Johnson's portrayal of a cynically bitter Nick and Greenfield's ability to turn Schmidt into someone who does so much more than just contribute to the Douche Jar.
Steve Marsi: Mark Harmon. Sure, his character may be a functional mute at times, but year in and year out, L.J. Gibbs and his leadership of the NCIS team are almost beyond reproach. As TV leading men go, at least in this particular genre, he's peerless.
Carla Day: Peter Dinklage from Game of Thrones. He commands attention as Tyrion, especially when he's "counseling" Joffrey.
YOUR turn, TV Fanatics: Who gave the best male performance of 2012?
Matt Richenthal is the Editor in Chief of TV Fanatic. Follow him on Twitter and on Google+.