From the Best Episode of 2012 to Best Male Performance, Best Female Performance,  Best Couple, Best Villain, Best Feud and Best New Show, the TV Fanatic staff has spent the week running down the past 12 months on the small screen.
Now, we turn our attention to the fictional personas that make various shows what they are and we ask:
Who was the Best Character of 2012?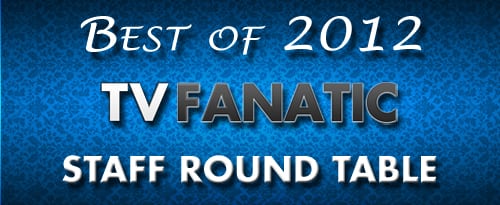 Kate Brooks: THIS QUESTION IS SO HARD!! I'm going to say Donna Paulson. Her increased presence in Suits Season 2 was the best thing that show ever did. I want her to be my best friend.
Neal Lynch: I love all the characters on It's Always Sunny in Philadelphia and Dennis Reynolds is a self-destructive sociopath whose life is one big scheme. I look forward to seeing how his character arc concludes.
Matt Richenthal: For being one of the best shows on television, Justified has gone overlooked on this overall countdown. So let's give it up for Raylan Givens, the man who combines intensity and humor (and, okay, sex appeal) better than anyone else out there.
Gabrielle Moss: Rafi from The League. Simultaneously the most hilarious and most transgressive comic character on TV over the last season or two, he's made the Sunny gang's limit-pushing look like kid stuff.
Steve Marsi: Ron F-cking Swanson.
Dan Forcella: Klaus on The Vampire Diaries was the best character on television this year. Joseph Morgan's ability to portray charm while acting as the most ruthless hybrid ever is nothing short of excellence. He is an extremely well written and perfectly acted villain.
Leigh Raines: Schmidt! Cracks me up every week without fail.
Christine Orlando: Nero Padilla of Sons of Anarchy Season 5. I've been a fan of Jimmy Smits since his NYPD Blue days, but I was still shocked how much I enjoyed his turn as the tatted up ex (sort of) gang leader. He oozes charm when saying he's "a companionator" who "brings folks together." How can you not love him?
Lisa Palmer: I think Adam from Girls qualifies as one of the best. If nothing else, because he's simply the most divisive character on any comedy I've ever seen. And I love him.
Miranda Wicker: Cyrus Beene on Scandal. He goes from nice to monster in the blink of an eye and no one spits out a monologue quite like he does.
Nick McHatton: Fiona on Shameless. She juggles so many different roles for her family, and she does it all while trying to be her own person.
YOUR turn, TV Fanatics: Who was the Best Character on TV in 2012?