Person of Interest Midseason Report Card: A

Sean McKenna at .
Reese and Finch haven't stopped saving the day on Person of Interest, but how has the sophomore season fared?
Continuing in the holiday spirit of grading shows (follow the links for The Mentalist Report Card and Revolution Report Card), TV Fanatic sets its sights on this CBS Thursday night hit. Read on and then sound off with your take...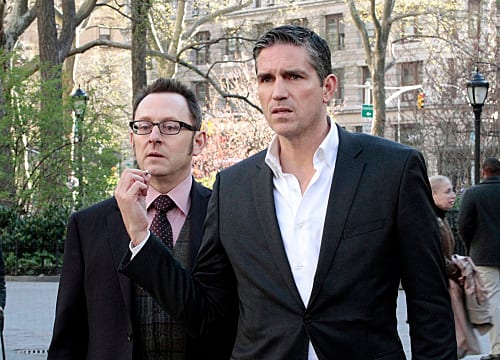 Best Episode: "The High Road." There's a plethora of good Person of Interest Season 2 episodes to choose from, but this suburbia focused episode was the perfect mix of humor, drama, story, and character. Reese and Zoe played perfectly off each other, we glimpsed Finch's first meeting with his true love, and the twists and action made for another fresh and entertaining hour.
Worst Episode: "C.O.D." While I enjoyed the Fusco aspects of this episode, the overall outcome was lacking. The story itself wasn't as riveting as usual, leaving the Estonian bad guys and POI less than memorable. It wasn't a bad episode, it just didn't hold the same high level of excitement or emotional impact that so often accompanies the show.
Best Character: There's just something cool about the kick-ass Reese, and we've seen a far more human and loving side to Finch, but the addition of their new best friend, Bear, was fantastic. It could so easily have fallen into camp, but this loyal pup provided for great humorous scenes that give us softer sides to our heroes.
Worst Character: Is there a worst character? The main cast all has their charming and charismatic personalities, while for the most part, the POI's find a way to be more than just moving scenery. I guess I'd pick the boss of HR, but only because we haven't really had a chance to explore who he is yet.
Best Love Interest: The chemistry between Zoe and Reese is electric, Carter seems to fancy Detective Beecher, but Finch's love with Grace is both heartbreaking and emotionally real. Seeing Finch in the past showed him as more than just the tech guy, and it was obvious from his first interaction with Grace that the two seemed meant for each other. I really hope that he gets the chance to see her again. They just work so perfectly, don't they?
Hopes for 2013: The return of Root. All Reese and Finch's formidable foes keep popping up, which is fantastic, but this crazy computer chick's fascination with the Machine gets at both the heart of Finch and the mythology of the show. I'm also really excited to see how Reese manages to escape after his capture in "Shadow Box." Essentially, if the show keeps delivering solid episodes on both the character and story fronts, while providing the fun action and humor, then the second half of season two will be the continuation of a great show.
Overall Grade: A
YOUR turn, TV Fanatics: Tell us what you thought of the first half of Person of Interest season 2.
Sean McKenna was a TV Fanatic Staff Writer. He retired in May of 2017. Follow him on Twitter.