"Santa" does exist! In the form of a generous, bearded, black policeman! Tonight's episode was cute. It started and ended sweetly, and headed into the winter hiatus without any real questions. In fact, the only relationship that seems unsettled is the one between Cece and Schmidt. I'm curious about the number of fans that are all for Cece and Schmidt versus the ones who think they are a ridiculous couple together. I fall into the first camp, if that hasn't been made clear already.
And although Sam is cute, I didn't think much about him between their last breakup and tonight's reunion. But Jess certainly seems thrilled. I can't imagine it ending too well though. I predict Nick and Angie will stay together, as will Sam and Jess. Then one of the couples will want to accelerate the commitment, but either Jess or Nick will sabotage their own relationship to be with the other person. Just a thought. Make sure to make some predictions of your own in the comments!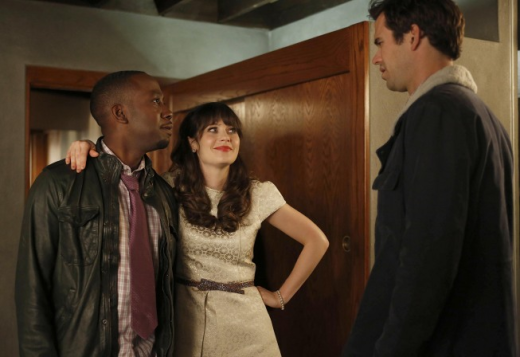 The best part of tonight's episode was definitely the scenes with Nick and Angie. I liked seeing Nick embarrass himself in the sleigh, which was equivalent to Jess' car modeling fiasco. And seeing him try and strip to a Christmas carol was stellar, along with Schmidt trying to show him a thing or two with his "eye contact." Angie doing the strip tease was sexy, but it just reminded me

New Girl

is on FOX.

Another great moment? Jess singing "I don't know the words" to the tune of "Come All Ye Faithful". Oh, and Schmidt calling Christmas the "White Anglo Saxon Winter Privilege Night."

One minor thing that drove me nuts about this episode? I hated Jess' coat. It reeked of "adorkable" and over the top adorned/cutesy. I know that this is Jess' style and it fits, but that coat symbolizes everything that is wrong with Jess to me. Stunted maturity, too naive, just young in a way that is supposed to be appealing, but sometimes ends up being completely absurd.

Happy holidays, New Girl fans! And I'll see you in January!

Tags: New Girl, Reviews
Want more New Girl?
Sign up for our daily newsletter and receive the latest tv news delivered to your inbox for free!
More From TV Fanatic

Join us for the One Tree Hill Rewatch of Season 1 Episode 4! Ready to relive the fun drama?

Reid Scott is headed to New Girl. He will guest star on the Season 4 premiere.

Power struggles ensue all around Chester's Mill on Under the Dome. Lives will be put on the line.

Scott decides to get tough on Teen Wolf after rescuing his Beta by declaring he won't sit back and watch more deaths. Find out what else went down in the review!
---