Jim's Notebook: Open to Supernatural, Switched at Birth and More!
Jim Halterman at .
The final Jim's Notebook for 2012 has a little bit for everyone, from Switched at Birth Season 2 bringing some great drama in January to Jimmy Kimmel talking about going head-to-head with Letterman and Leno in a few weeks.
I also had the chance to chat with former Supernatural showrunner Eric Kripke about a new SPN book that avid fans are going to want under their Christmas tree...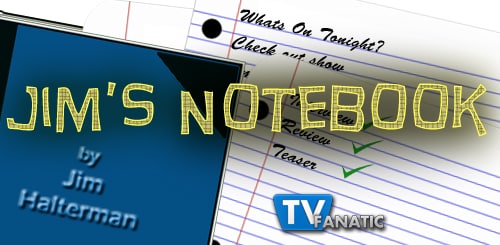 SWITCHED AT BIRTH We know that in the Switched at Birth fall finale, Angelo (Gilles Marini) won a huge amount of money in his court settlement, and what will he do with it? Spend it! In a press call earlier this week, Lucas Grabeel, who plays Toby, revealed what comes of all that cash - and you can rest assured that it looks like the money will be all gone in the near future.
"To thank the family for all of the hospitality that they have shown him, he buys everyone in the family a pretty lavish gift," Grabeel said. "And some people respond to it very positively."
Does Toby get in on some of that action? Yes! Added Grabeel: "My character gets three hours of recording time with a famous producer, so because I'm a musician and having the band and everything, I'm very excited about that."
Elsewhere, someone else (Daphne) is going to get a food truck, which of course will come with its own set of problems. Bring it, Switched at Birth!
SUPERNATURAL Kripke stepped away from showrunner duties on several years ago and is busy with NBC's Revolution, but he walked down memory lane recently for a new book (available now!), "The Essential Supernatural: On The Road with Sam and Dean Winchester." How was it to look back about his time on the Jensen Ackles/Jared Padalecki series?
"I look back emotionally," he said. "I look back very much the same way that you would look back at old photos of your friends and family. I look back with nostalgia and I really look back with pride. I think we really created something very special. I think we had the right mix of writers and producers and studio and network that really allowed us to get away with things that I don't think I'll ever be able to get away with again."
As to the heavy subject matter often brought up on the series, Kripke reflected: "We were really able to tell stories about God and whether or not there is one and the Devil and racism and faith and really touching on some major issues all on the guise of a genre show. That was really, really satisfying to me."
JIMMY KIMMEL LIVE The late night talk show host admitted to not really thinking much about competitor Jay Leno, except when asked in interviews, but he did offer up a hint as to how he really feels about him.
"When The Late Shift came out," Kimmel said of the infamous story of how Leno got The Tonight Show over Letterman when Johnny Carson stepped down, "I realized that Jay had schemed and to take something from someone that I admired [and] that's what did it for me, I guess. And this scheming seems to have continued. But, you know, listen, Jay's just another guy doing a TV show... I don't hate him or anything like that."
One person who advised Kimmel not to move his talk show up from midnight to 11:35pm? Howard Stern.
"I think that Howard's primary advice is stay at midnight, don't move," Kimmel explained. "That always seems to be [Stern's] plan to stay put if things are working and maybe there's some wisdom to it. But for me, you know, your network asks you and gives you the opportunity to move up and you really don't have a choice as to whether or not you're going to take it."
Very aware of the competition he'll be facing with audiences - who normally tune in to Leno and Letterman - Kimmel joked: "If I had my pick of the litter…I think I'd want to compete against Mario Lopez."
And that's a wrap from the Notebook for this year, but I'm excited there is so much coming up in January. We'll have new episodes of faves like White Collar, Necessary Roughness and Suits over at USA, Dallas at TNT, the return of Smash and a slew of new shows trying to get our attention. Sounds like a great way to start 2013 to me! 

Have a safe and joyous holiday season, everyone!
Anything else you're dying to know about your favorite show? Leave a comment here or you email me directly at jim@jimhalterman.com. And remember: follow @TVFanatic for all your TV scoop!
Jim Halterman is the West Coast Editor of TV Fanatic and the owner of JimHalterman.com. Follow him on Twitter.