The gang gave Robin an intervention this week on How I Met your Mother, as she struggled to accept Barney's new relationship.
"The Over-Correction" was plagued by some overacting in the beginning, but steadily gained momentum over the course of the episode, much like we have seen in recent weeks. 
If Robin was so sure Barney's feeling for Patrice were not genuine, she would not have gone to such lengths to find and show her The Playbook. It's clear she still has feelings for Barney, which is why the others staged the intervention. Fortunately for fans of the show, that confrontation came after she broke into Barney's apartment because it was the stage for the best scenes by far.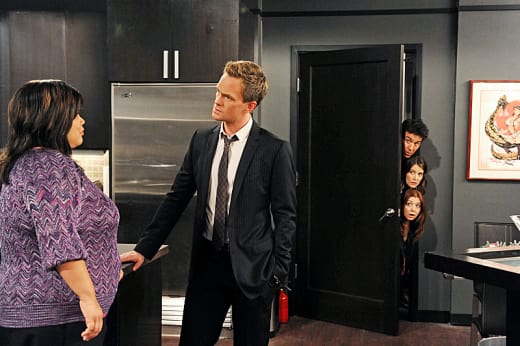 Just when you thought you had seen all the amazing amenities in Barney's Bat Cave of an apartment, Robin uncovered a slew of secret compartments. Ted delivered another solid performance, too, as he tried to lure Barney from his domicile with apparent sightings of Hugh Hefner and Bon Jovi. I also liked how his collection of lost things kept surfacing, the best of which were his red cowboy boots. 
I don't think Lily would have wished her father's naked body on her worst enemy, including her nemesis mother-in-law. While I agreed with Barney that everyone deserves to be happy, it didn't make it any less repulsive. Marshall and Lily sharing the shame blanket in the closet was a very funny reaction, though. 
The underlying theme of the over-correction was a good one. Marshall's funny fish name routine has been done before and then some, but the Andrew Dice Clay and Chris Rock versions were a great twist on a classic How I Met your Mother joke. Robin screaming at Patrice is also nothing new, as Ted pointed out in my favorite How I Met Your Mother quote of the week. There was no new approach to this routine, but it still made me laugh on each occasion. 
The show has been sporting a bit of a limp on How I Met Your Mother Season 8, but I can't deny seeing a little more get up in it's giddy up as of late. What did you think?