"Ha 'awe Make Loa:" Death Wish
In his slow progression from being my least favorite character to making the top three, Max made a lot of progress this week, thanks in part to his quick thinking to help and injured man and his adorable new girlfriend Sabrina (Rumer Willis).
I actually feel a little bad for the Willis (the daughter of Bruce Willis and Demi Moore), as she was put into an episode with the acting talents of C. Thomas Howell and sexy super model Behati. Talk about a double whammy. How is she supposed to compete with them?
Thankfully, she didn't have to. She just had to look cute with Max and not flinch when he melted ice chips on her lips. Setting aside how touching that gesture was, would they really need to give her water by mouth if she's only been out a few hours? Last time I was in the ER I got an IV of fluids and didn't need to drink anything for two days.
But I'm no doctor, so I'm willing to go with it.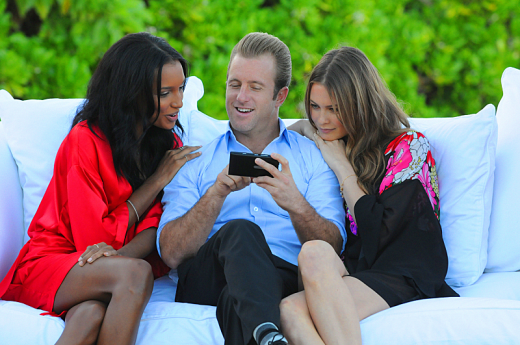 For the record, I know she couldn't have been out very long, because Max was still in his bloody shirt and nobody seemed to think that was weird. Hey, Steve, next time you go to the hospital to get Max's statement after a shooting, take him a shirt would ya! 
In a rare "double case" episode, Danny had the horrible job of protecting three Victoria Secret models from a stalker all of whom took a strong interest in Grace. Best part about this story is Danny was not grumpy once. In fact I don't think he stopped smiling the whole time, even after shooting the stalker. 
And of course for those of you playing the recently created H5O Foot Chase Drinking Game, it was a banner night as we got two different chases with several things knocked over, a person car-jacked and knocked down, one suspect tackled, and I'm giving a bonus drink for the naked chase as where else would we get awesome Hawaii Five-0 quotes like this:
Kono: Male suspect traveling on foot, south on Koka Street. What's he wearing? Nothing, that's right he's bare ass naked. | permalink
Overall, this was a fun episode. I'm guessing C. Thomas Howell got a new agent, because he has been in everything lately. In fact, this appearance gives him the trifecta of Monday night shows, as he was on Revolution and Castle in the last couple of months. So I'm giving this episode 4.5 cute bank tellers in honor of Max and his new girl. 

What did you think? Do you want to see Rumer Willis with Max again? 

Jim G. is a TV Fanatic Staff Writer. Follow him on Twitter.

Tags: Hawaii Five-0, Reviews