Miranda had to take the night off and asked if I could step in this week and review Bones.  "The Ghost in the Machine" made me grateful for the opportunity.
It's unusual for Bones to make me tear up. The sheer gore of the corpse scenes tends to make me cringe or turn away, but it's never brought me to tears. With the show's 150th episode, it went beyond the blood, bone, and science of death and explored the heart and soul.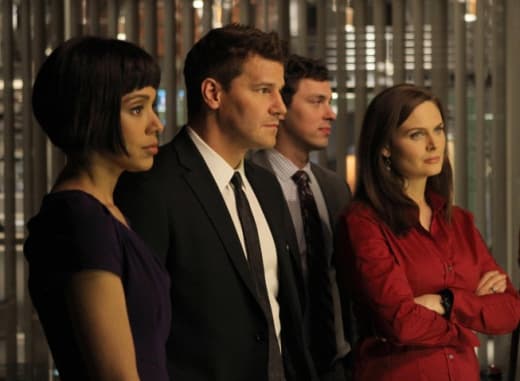 The entire episode was told from the viewpoint of a deceased 14 year old boy and although it's a gimmick I generally don't enjoy, it worked here.  From the view of the crow flying over the top of the greenhouse to Booth offering his battlefield prayer, I enjoyed the alternative perspective this format offered.
The fact that the victim was a kid shook everyone, moreso now that some of them have children of their own.  Even the unshakable Brennan felt the need to hold her daughter.
Avalon, Angela's psychic friend played by Cyndi Lauper came back to visit as she spoke with Colin's spirit that just wouldn't leave. I've always liked Avalon and was happy to have her make a return appearance here. 
The most compelling part of the episode was Brennan's willingness to discuss the possibility of a soul as she explained to Angela in this Bones quote…
Brennan: It's a myth that transcends race. It is an abiding tenet of humanity. | permalink
She still pointed out that there was no evidence of an afterlife but that didn't stop her from talking to Colin's remains as though he could hear her. 
Colin's death was a horrible, stupid accident.  He was a 14 year old daredevil looking to impress his friends. As a parent, the random reality of it made my stomach turn.
When Avalon told them that dying wasn't was made Colin sad, it seemed obvious what did.  When a teenage boy goes through the trouble of making a mix tape for a girl, all he wants in the world is for her to listen to it. 
But the best scene was at the end. Watching Booth and Brennan dance to their song with their daughter was just perfect.
I've always found that Bones can run hot and cold but this was definitely one of my two favorite episodes of the season.  The other being "The Patriot in the Purgatory."  If only every Bones could be as good as these two it could be one of my favorite shows once again.


C. Orlando is a TV Fanatic Staff Writer. Follow her on Twitter.