Let's kick things off by acknowledging that Oliver finally got laid for the first time in five years! Mazel! Well, that is, unless he had some secret gal on the island we don't know about.
"Vendetta" focused on this budding romance, as well as the differences between Oliver and Helena, aka The Huntress.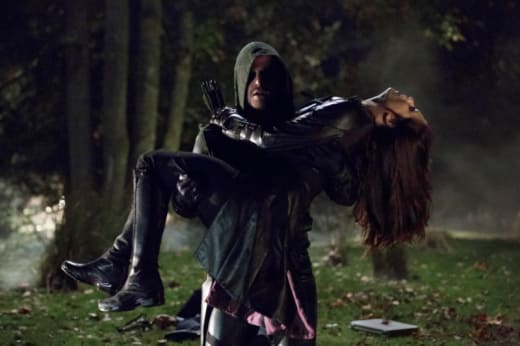 I'm not sure we've ever touched on this before, but Diggle is so very wise. Of course we know that he's intelligent and perceptive, as he was the first one to figure Oliver's secret out, but he also gives some pretty sound advice. Oliver's world is lonely. Not being able to tell the people close to him that he has an alter ego can be very isolating. To this degree, he probably saw a kindred spirit in Helena. Or maybe he was just trying to cure her.
You're like a dope fiend who thinks he can deal with his own addiction by making another addict go straight. | permalink
An interesting theory by Diggle. Do you agree? I think there is a small part of concern that Diggle has about Oliver sharing his secret with anyone because that opens them both up to exposure. Mainly, however, he just plain knows that Oliver and Helena are different. And whether their paths are similar to a degree, they're also not. It was almost more dangerous for Oliver to promise Helena anything emotionally when they are both so damaged. I don't think these two can really heal each other.
Ollie tried to show Helena that you could still get justice without killing people. He was especially smart when he stopped her from killing her father, telling her that in the end she wasn't going to feel any better about it. If anything she would eventually feel regret. It's too bad that Helena is so stuck on her own version of justice since she just incited a huge mob war. I get why she dragged The Triad into it, but it was like kicking a hornet's nest.
I found the scene with Oliver and Helena at Sara's grave to be very touching. Oliver really has opened up a lot since we first met him at the beginning of Arrow Season 1. He even showed some vulnerability when he told Diggle: I'm giving up a lot so I thought maybe the universe owed me one.
It's a sweet thought but it's a lost hope. Oliver isn't just trying to repay his father's sins, he's trying to repay his own. He will spend the rest of his life trying to make things right for hurting the people he loves. That includes Laurel. I'm glad he isn't getting in the way of Tommy and Laurel's budding romance since he just wants Laurel to be happy.
Someone who perhaps should be more aware of the people they love is Moira. While I do believe Moira Queen has turned a corner, she has to give Walter more credit for what he found out. He's not just going to take her word for things anymore. I only hope that Walter and Felicity from tech are spared from any harm.
What did you think of this week's episode? How awkward was that double date? What will Walter do with the book now that he's seen the names?