Well... it wasn't nearly as bad as its first attempt at a live show, but The X Factor still has a lot of work to do. The Top 13 performed for America's vote Wednesday night, and only a handful of acts truly impressed.
You read that right, the Top 13.  If you didn't guess it like everyone watching at my place did, Diamond White returned to the competition - because The X Factor likes to pretend it is surprising viewers with twists. When you have now done something like this at least three times in two seasons, it's not really a twist. It's just what you do.
Getting to the performances: the finalists were tasked with singing songs from "some of the greatest movies ever made," which apparently includes Katy Perry: Part of Me. Before recapping the contestants, here are my rankings from Wednesday night's outings.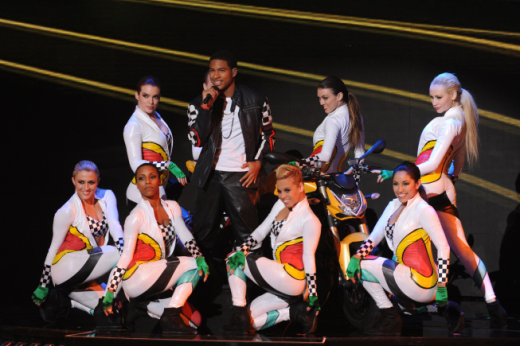 1. Emblem3
2. Beatrice Miller
3. Carly Rose Sonenclar
4. Fifth Harmony
5. Arin Ray
6. Vino Alan
7. Tate Stevens
8. Diamond White
9. Jennel Garcia
10. Paige Thomas
11. Jason Brock
12. Cece Frey
13. Lyric145
Arin Ray: That was exactly how you use the X Factor style of production to your advantage. It wasn't too much, and it wasn't overpowering like most of the upbeat songs from last week. The dancers and the backup music added to his performance. His vocals were able to shine through, he showed off his dance moves, and it was exactly what we might see out of him if his career takes off.
Grade: B+
Paige Thomas: Wait, was that guy even supposed to be on stage? I feel like he might have just wandered on and started fondling her. Unlike Arin's, I felt like the props were overwhelming for Paige. Whether it was the loud background music, all of the props, or the guy molesting her, Paige didn't connect with the song enough. Her voice was strong, but it wasn't enough to make the performance.
Grade: C-
Vino Alan: The thing about that song is that so many people can't even sing it. Vino rocked it throughout, but it was the end when he combined some serious falsetto and some emotional yells that made it really good. His responses to the judges and his interactions with the fans while they were talking about his performance, just made me love him even more.
Grade: B+
Emblem3: It started out a bit sketchy - like the first two lines - but as soon as they began with their first harmony, it was gold. The idea of mashing up a classic like "My Girl" and a popular track like "California Gurls" was brilliant. I couldn't agree with Britney more about them making it their own. Everything they do sounds like Emblem3, and it's because they are so different from anything else out there right now.
Grade: A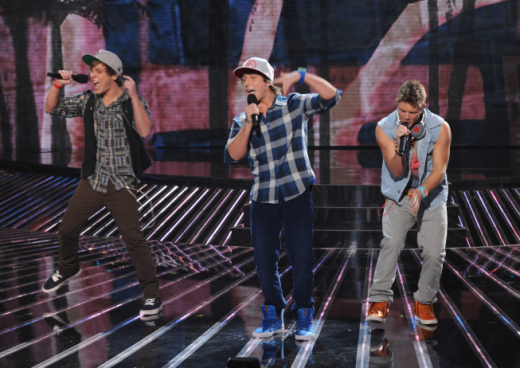 Beatrice Miller: Well, Demi had to be right sooner or later. Her comment about Beatrice connecting with the audience on every performance was spot on.  I didn't think that her vocal performance this week was quite at the level of last week's, but I think I might have been more into this one, because she continues to grow as an entertainer. That's something you can teach. She has it.
Grade: A

Jennel Garcia: I feel like Jennel has taken this "rocker" thing to a level that makes her just seem like a character at this point. Nothing about this performance felt genuine. Unfortunately for her, that song is a lot of yelling and she didn't get to show off her interesting tone.
Grade: C

Tate Stevens: Almost everyone is sounding better this week. This was the first time that I could see Tate as a star. He didn't sing a country song, but this Bon Jovi track allowed him to show off the pipes. It paid off, because that tone just sounded fantastic.
Grade: B+

Lyric145: It's not a good sign when the only bearable moments of your performance are when you pause to talk to the judges. This certainly outdid any expectations I had for how bad a performance could be. There was no musical talent behind it. There were no vocals. The rapping wasn't good. It was fast at times, but not good. I'm in utter shock at the positive remarks from the judges.
Grade: F

Diamond White: This was another in a surprisingly long line of contestants who have done this song justice. Judges continue to say you can't sing Whitney, but many do just fine, and Diamond was no different. It wasn't the best or most emotional rendition I've heard, but for a 13-year old, it was pretty darn good.  There wasn't a bum note in the bunch.
Grade: B+

Cece Frey: Her voice sounded so pedestrian in this performance, which is a shame, because it's not. Did they not see how well Cece did in the results show with a ballad that could show off her vocal skills? I absolutely agreed with Simon. Cece is going backwards from the talented girl we saw in the auditions.
Grade: F+

Carly Rose Sonenclar: Can someone do something about the fans screaming over the contestants' singing? It's terribly annoying, and it ruined the start of Carly's performance. Luckily, Carly just killed it. Her voice is impeccable and her emotions really came through with this one. It's amazing to think that all three of these teen girls are only 13 years old.
Grade: A-

Jason Brock: His voice is solid, but I agree with the judges that this and every one of his performances is very lounge singer-esque. It's theatrical, and cabaret and it doesn't work for a show like this. He's not going to be a star, but again, he has a good voice. He should work in the music business, but he shouldn't win The X Factor.
Grade: D

Fifth Harmony: They have become a group. It's not just because they finally have a name that works, Fifth Harmony absolutely killed the harmonies, and the different dynamics they had going were fantastic. The only issue I had was the opening. I don't think they chose their best vocalist to start the song.
Grade: B+  

--------------

There you have it, TV Fanatics. The fate of the final 13 is in America's hands. Which was your favorite performance of the night? Who do you think will win it all? And who do you want to see go home?  

Dan Forcella is a TV Fanatic Staff Writer. Follow him on Twitter.

Tags: The X Factor, Reviews