The Voice Top 20, Part 2: Nick's Everything

Dan Forcella at .
I really respect the fact that The Voice knew Cee Lo had the best team and Xtina had the worst, so it paired their squads together for Wednesday night's performance show.
The second half of the Top 20 performances were put on display for America, and now it's the fans' turn to decide who deserves to move onto the next round. Who did enough to stay in the competition? And who should be on their way out the door? Let's recap what went down on Wednesday evening...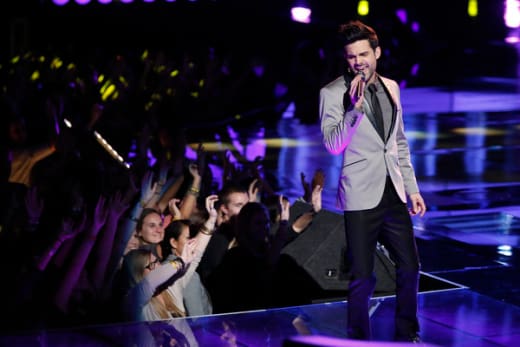 Adriana Louise - "Firework"
Adam was right about there being a lot of long notes in that song, which makes it difficult to sing, but this felt boring to me. Adriana did very much a carbon copy of Katy's rendition, and it was inferior to the original. I wasn't excited by it.
Grade: C
Cody Belew - "One More Try"
You have to admit one thing. Cody looked sharp in that suit. Whether you loved his performance or not is another issue entirely. There were things I liked about it, and those I didn't. He proved that he has a wide variety of vocal skills, but I don't think he excelled at any one of them tonight. He was good, but not great. I don't care if I didn't love this performance. His response to Blake saying that he was Miranda's favorite might have me him my favorite as well.
Grade: B
De'Borah - "Who Knew"
She brings a bunch of things to the table in every one of her performances. She has the vocal chops, she has the performance ability, and she's so unique that she makes everything her own. This was great.
Grade: B+
Diego Val - "Bailamos"
Who's next on Karaoke Night? This performance was way too on the nose, and Cee Lo really messed up with this song choice. He's Latin, so he has to sing this Latin pop classic? Diego is capable of much, much more.
Grade: C+
Mackenzie Bourg - "What Makes You Beautiful"
If he did one more of those little squeals at the end of a sentence, I was going to lose it with excitement. This wasn't as great as last week's "Call Me Maybe," but I think Cee Lo was smart in pushing him towards not recreating that moment. He needs to show his versatility, and I think he did that. This way, the next time he comes out with a very singer-songwriter type of track, it will blow us away again.
Grade: A-
Devyn Deloera - "Bleeding Love"
Repeating that falsetto over and over is no easy task, so the fact that Devyn nailed it is something to commend. I loved it when her power vocals came through, but the runs were a little much.
Grade: B-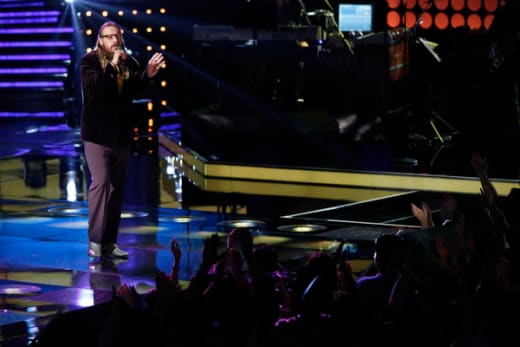 Nicholas David - "You're the First, the Last, My Everything"
This guy can make any song a masterpiece. I wasn't happy when I heard this was the song Cee Lo chose, but every little thing that Nick did was fascinating. The tiny inflection changes that he does with every line are something that nobody else can do. He has so much soul, and he put every bit of it into this performance.
Grade: A+
Sylvia Yacoub - "The One That Got Away"
I loved everything about this performance...well, except for her voice. The combination of way too much vibrato, and a couple of big missed notes, ruined it for me.  I wanted to love it, which is why I said I loved the performance. Stripping down the vocal, and being so musical at the piano made it great in theory. I just don't think the execution was there.
Grade: B-
Dez Duron - "Wanted"
I've heard this song 10 million times, but there was something about hearing it from someone without a country twang that made it feel brand new. Dez's voice sounded great on this track, and if it wasn't good enough, his looks will carry him the extra mile.
Grade: B+
Trevin Hunte - "How Am I Supposed to Live Without You"
That should have been the best thing I've ever heard, but for some reason it didn't go over perfectly. He is phenomenally talented, and proved that yet again with this performance, but Trevin didn't completely connect with me on this track. Like how Adam needs to imagine making babies when listening to Barry White, I need to be able to imagine Zack Morris and Kelly Kapowski breaking up when hearing this record. I didn't quite get there.  
Grade: A-
--------------
From Team Cee Lo I would definitely save Nicholas David, and then I would probably choose Mackenzie Bourg and Trevin Hunte as my second and third. That is a tough three to beat. For Xtina, I'd settle on Dez Duron, De'Borah and Sylvia Yacoub.
Who would your choices be? Which performance was your favorite of the night? And who do you think will head home Thursday night?
Dan Forcella is a TV Fanatic Staff Writer. Follow him on Twitter.