The Voice Results: Who Made the Top 6?
Steve Marsi at .
On the heels of another entertaining performance show Monday night, The Voice pared its field down by two aspiring stars once more. Eight came into the night with a dream of being crowned Season 3 champion.
Only six remain right now.
Unlike the previous two weeks, where certain members of the top 12 and 10 felt somewhat over-matched by the stronger singers on the show, there were very few weak links left tonight; still, two had to go.
So who did?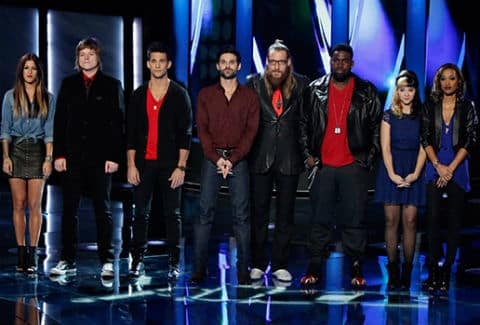 The singers living to battle another week and advancing to the top six:
Team Cee Lo's Nicholas David
Team Cee Lo's Trevin Hunte 
Team Blake's Cassadee Pope
Team Blake's Terry McDermott
Team Adam's Melanie Martinez
Team Adam's Amanda Brown
The singers headed home after a terrific run on The Voice:
Team Cee Lo's Cody Belew
Team Christina's Dez Duron
Too bad for those two fellas, but not entirely surprising. In a field so strong, and especially after Monday's performances, they were likely at the bottom along with Terry, who America has loved from the start.
Dez's elimination leaves Christina Aguilera OUT with six singers left standing. Pretty bad. Each of the other coaches will bring two singers to the final six, though Cee Lo has had the best team throughout.
Considering that he had to eliminate Amanda in a battle round before Adam stole her (a great move on Levine's part), and Cody almost pulled it out this week, it's been a great season for Coach Green.
Can one of his proteges bring home the title? Very possibly. Along with Cassadee, Trevin and Nicholas probably have the best shots to win Season 3, though the "star" power of the latter two is debatable.
At this point, no one's out of the running by any stretch of the imagination.
What did you think of tonight's results on The Voice, America? Did we get it right? Or should one of the two eliminated contestants be in the Top 6? If so, who should pack his/her bags instead? Vote:

Steve Marsi is the Managing Editor of TV Fanatic. Follow him on Google+ or email him here.