Anyone who has been watching The Mindy Project has most certainly noticed the sexual tension between Mindy and Danny.
Tonight on "Danny Castellano Is My Gynecologist," the two coworkers opened up to each other - but in very different ways. 
Before getting to the exam room drama, I have to mention that the opening scene in which Mindy's morning seduction went south when Josh put on her jeans was positively hilarious. From Josh finding the jolly ranchers in the back pocket to Mindy's mortification under the comforter, it was a great way to kick things off and provided the first entry to the memorable Mindy Project quotes of the evening.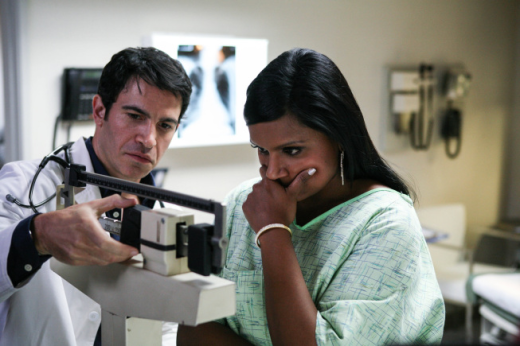 Danny Castellano is becoming one of my favorite comedic characters on television and this episode only furthered that feeling. His feeble attempts to maintain some sort of bravado in the presence of Mindy have yet to grow old on me. I had figured the chemistry brewing between the two of them would be something that would slowly evolve to the point of annoyance, so I was very pleased to see the progression of that storyline here. 

It was good to see the doctors actually practice their trade as Danny, excuse me, Dr. Castellano ran through the consultation questionnaire. I was expecting some painfully awkward moments when I first read the synopsis of the episode, but there was no hiding my face under a pillow tonight. The game of chicken the two played both in Danny's office and the exam room was a treat to watch. The scale scene was brilliant. 

Things were not all light hearted, though, in this new doctor/patient relationship. Mindy took several jabs at Danny's divorce to deflect his insensitive timeline for her hopes of having children. A tender moment was then shared when Danny opened up to Mindy about his upbringing and why he is so driven. There had to be a winner in the end and Beyonce Pad Thai emerged victorious as Danny blushed first. 

Gwen finally offered up some meaningful moments, too, as we got a little idea as to her and Mindy's history together. I liked seeing Betsy break through Jeremy's shell of indifference as he ended up leaving the watch behind and Shauna and Morgan rounded out the episode with a few well timed lines of their own. 

What did you think? 

Tags: Reviews, The Mindy Project