Patrick Jane doesn't run... that is, unless he's chasing Red John - yet "Red Sails in the Sunset" started off with the odd site of watching Jane run. With whom was he meeting? Where was he headed?
The answers were both surprising and a little disappointing.
Yes, anyone who saw last week's previews knew that Bret Stiles was making an appearance, but I was expecting more. I'm a fan of the oddly engaging cult leader and I had hoped we'd get more of him than just one scene.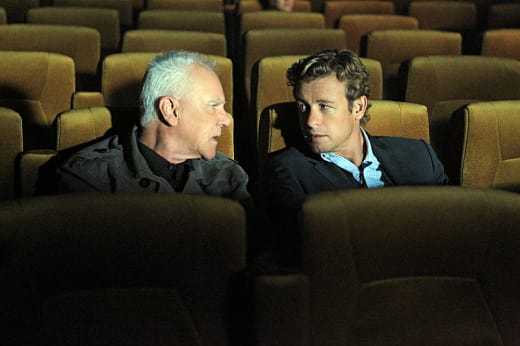 Not only did Jane cash in his marker with Stiles, he also smashed the window of his precious Citron. This was serious.
I liked that the plot didn't linger on the finer points of Lorelei's breakout and got straight to her interactions with Jane. The poor girl thought Red John had come to rescue her and instead she found Patrick Jane.  She wasn't happy.
My favorite scene was watching Lorelei and Patrick on the beach. It was a beautiful setting that felt odd, lonely and peaceful all at once. 
Back at the CBI, Agent Kirkland showed up once again and did anyone else notice Lisbon fluffing her hair when she saw him? Ugh. Please don't let that mean anything. The guy would creep me out even if he weren't a Red John minion.
But Lisbon brought up an interesting point: How does someone become the mistress of a psychopath? What was Lorelei's story? Thankfully we found out.
When Dana shared her story about selling her two-year old, it made my stomach turn. Honestly, I expected Lisbon to look more horrified. Lorelei effectively had her sister stolen from her twice. Once as a child by her own mother, and later taken permanently from her by Red John - but Lorelei never made the Red John connection. 
Watching Patrick walk up to that cabin in the woods was so creepy it made my heart pound. His abduction set up, complete with car crash, was so perfect that only Lisbon would think to question it.
But for Jane the bruises, neck brace and Lisbon's suspicions were all worth it the moment Lorelei gave him his biggest clue in this The Mentalist quote...
 I only wonder why the two of you didn't become life long friends the moment you shook hands. | permalink
Patrick Jane has already met Red John. Something that many of us have long suspected has now been confirmed and the obsessed glee in Jane's eyes was more than a little disconcerting.
So, is it someone he knows well? Someone he'd never suspect or perhaps a person he's recently crossed paths with? What's your latest Red John Theory?
C. Orlando is a TV Fanatic Staff Writer. Follow her on Twitter.