Well, this should be interesting.
With the events on "To Thine Own Self," Sons of Anarchy has painted itself into a corner.
Can Clay Morrow really survive to fight, ride and scheme for another season? How can the FX thriller realistically keep this character alive, now that all his secrets and actions are out in the open?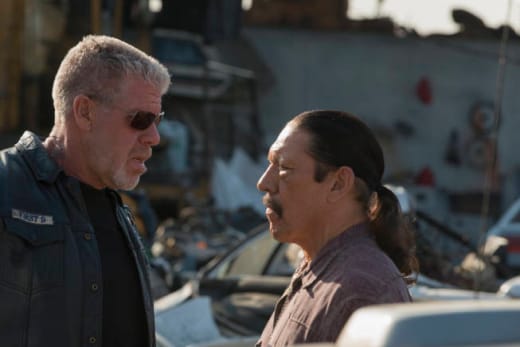 Juice and Gemma know about the Nomads. Chibbs and Bobby are up to date on Tara and Piney. Jax is more obsessed than ever with outing - and presumably killing - his stepfather.
The CIA gave Kurt Sutter a believable reason to keep Clay around last year, but that blackmail plot has also been foiled. It's certainly not beyond this series to kill off a major character (continue to Rest in Peace, Opie), but it's remains difficult to imagine Clay taking a bullet any time prior to the final season. It's also difficult to imagine him sitting around the SAMCRO table in 2013.
So color me intrigued regarding how this family feud will play out.
That was my main takeaway from an episode that mostly served to set up next Tuesday's Sons of Anarchy Season 5 penultimate episode. There wasn't a great deal of plot movement here, as both Jax and Clay continued their attempts to align players to their side.
The latter reached out to Tig, seemingly unsuccessfully; while Jax used less subtle and more threatening means of dealing with his mother and Juice. But it looks like it will all come down to Bobby. Why would he possibly intervene and save Clay?
We may find out more next week, but what we already know is enough to make this a reasonable maneuver. These two go back a very long way. And Bobby has grown disenchanted at Jax's renegade side over the past couple episodes, highlighted by his breaking SAMCRO's ties with the Grim Bastards on "Crucifixed."
I buy that he'd swoop in to rescue Clay, at least from death. He may not think his old pal belongs in the club any longer, but there's enough loyalty and years of friendship here to believe that Bobby doesn't think Clay belongs in the ground, either.
Elsewhere:
Tara took that job in Providence... without discussing it with Jax first. Probably not her best move. I'm all for her packing the kids and getting the heck out of Charming, but she had the right idea at the outset of the episode: be open, be up front and appeal to her husband's rational side.
Donal Logue debuted as - I'd have to guess - someone connected to the dead nurse, who now has it out for Otto and Tara. As a TV critic, I am now contractually obligated to urge all readers to go purchase Terriers, as we all wonder how this menacing man will make his presence felt in Charming.
Poor Nero. He was directly involved in both my favorite scenes this week: first proving he was back by gunning down two former running buddies; and then breaking down on Gemma's doorstep when he learned the killings were unnecessary. What a terrific addition to the season.
So that's where we are heading into the penultimate episode. Will Jax's focus on Clay's fate threaten both the club and his marriage? Will Gemma end up with Nero? Will Tig side with his new boss or his old? And will Juice ever catch a break?
Matt Richenthal is the Editor in Chief of TV Fanatic. Follow him on Twitter and on Google+.