"Nobody's Fault But Mine" left us Revolution fans with quite the cliffhanger.
We now begin a four-month countdown, and it begs one big question: What happens when you bring a knife to a gun fight?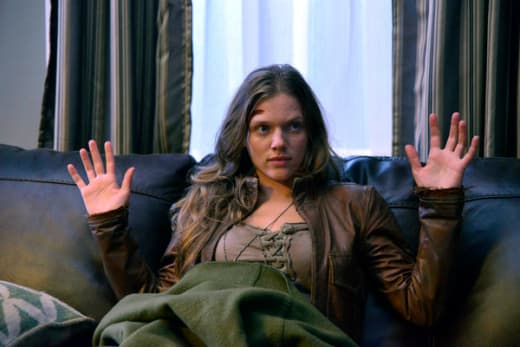 Why Rachel, for all her quick thinking, couldn't just quickly do some damage to the amplifier and take the pendant back before slapping Miles might rank up there with convenient oxygen-starved tunnels in terms of plot contrivances. However, I still find it hard to fault her completely. She only had one goal: to get back to her children, even willingly going toe-to-toe with the guy even Miles finds scary.
For not having a good chunk of screen time, Rachel seems to be in almost every new storyline: she knows Aaron, her past with Miles certain isn't amicable (although it looked like a lover's quarrel more than anything else) and she has some serious bridges to mend with Charlie.
Speaking of, Rachel's reunion with Charlie was definitely one of the higher points of the episode. Charlie was, understandably, still mad at Rachel for abandoning her and Danny, and the tension between them was captured perfectly in their reunion scene: Charlie stepped away from Rachel as she moved in to embrace her.
Charlie posesses plenty of baggage to carry with her because of Rachel, and none of it is being tied up with a neat little bow. Because of Rachel's reintroduction into her life, Charlie finally has a dynamic (aside from Miles) on the show that works for her. For most of the Revolution Season 1, Charlie has felt like a lost soul that hasn't fit in with everyone else. Here, she finally had a purpose.
The showdown between Miles and Monroe, on the other hand, was anti-climatic. There was never any real fear that Miles was going to return to Monroe, so while it was awesome to see that Miles and Monroe considered themselves to be the only family they had at one point, it wasn't exactly surprising the Miles dumped him in favor for his real family - and in favor of leaving behind the shell of man who has lost all semblance of his best friend.
Other thoughts:
Aaron can't work matches, but finally learns how to start fire?
Miles' affection for Charlie is rather adorable, and so is hers towards him. The ending, as she was waiting for him to escape with them, summed up their relationship perfectly, especially as he yelled at her: Run, you idiot! | permalink
Still wondering what Grace and Flynn are up to.
What did you think of the fall finale? Can you believe NBC is making us wait until March for more Revolution?