Parks and Recreation Review: Pawnee vs. Eagleton
Lisa Palmer at .
It's never easy to say "I'm Sorry." 
In "Pawnee Commons," Leslie has to admit that she was wrong about stereotyping all Eagletonians into one large group of jerks. Granted, she was very right about two members of the architect firm - are there architecture firms in super small towns? - but this is beside the point. It's not as though I thought Leslie was completely over her hatred of the citizens of Eagleton. But we've seen her character become so insightful, it seemed almost strange that she seemed over-the-top silly tonight.
Remember that Jim Carrey movie, Liar, Liar? Her "I'm sorry," was impossible to get out because she wasn't really, in fact, all that terribly sorry. I understand her gripe with Eagleton, but  think the series can do better than entrusting its viewers to watch a different version of Leslie than the one we're with which we're familiar.
The Andy/April storyline was a bit tepid for me, too. I typically love these two in small doses, but even with just a tiny bit of Andy and April role playing, I was hoping for a little less pretend. I can't quite decide if April's fake name, Mrs. Hitler, is as offensive as I thought it was... or it's actually funny.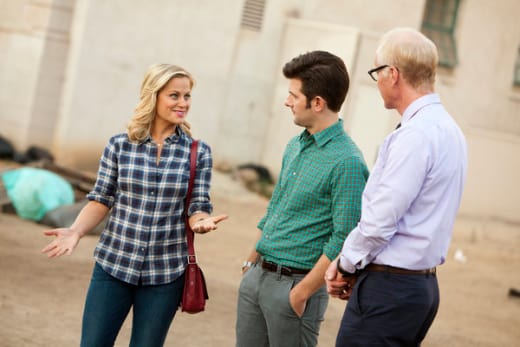 The story I thought to be most successful, was about putting together Tom's store, Rent a Swag. Tom is desperately trying to avoid the failure of the new venture and really appears to have learned from his experiences with Entertainment 720. He wants success and is budgeting his money and opting for the cheapest of everything. It takes Ann to straighten Tom out and remind him that he needs to be himself in order to put the "Swag" in Rent a Swag. 
Tonight's episode wasn't my favorite, but I look forward to the season as it progresses. I just hope it continues to bring its characters forward.
And yes, Chris, I want you to make me a staircase to nowhere now, too. Visit our Parks and Recreation quotes section for more, TV Fanatics!