"Shell Shock, Part I" started out as a fairly routine NCIS case when a marine, Michael Torres, was found beaten to death in an alley. 
The investigation became more complicated when his fellow marine's story didn't check out and Gibbs figured out he was suffering from PTSD. That was a compelling story, but NCIS ended with a surprise that blew the top off the entire mystery.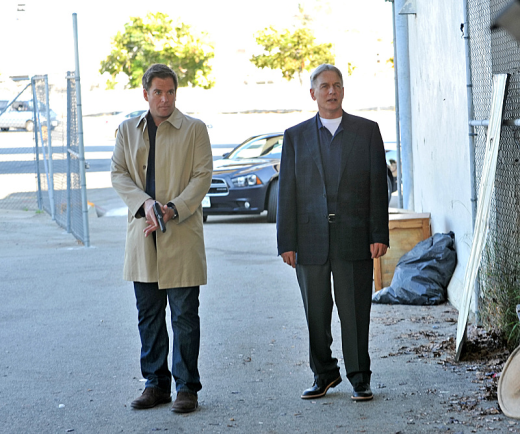 The story of what happened after Wescott and Torres left the convenience store changed several times throughout the investigation. Initially, NCIS thought that a known criminal, Sam Mathis, was looking for a fight and followed the marines. Only it wasn't him, since he was enjoying a lovely evening at a local strip club. Tony conveniently knew someone at the club who could verify Mathis's alibi. Hmm ... okay, Tony.

Wescott's memory of the attack, along with the terrible video recording, led the investigation in the wrong direction. They were looking for a group of attackers, rather than just one. It was Ducky's autopsy that debunked the theory that a multitude of people beat Torres to death. Initially, Gibbs rejected Tony's suggestion that they look more closely at Wescott, but after seeing the marine's deteriorated mental state, he re-evaluated. 

McGee was able to clean up the video enough to show that not only was Torres only attacked by one man, but that Wescott and Torres had followed that man out of the convenience store, not the other way around. The man in the video matched the sketch that Wescott provided. His name is Randall Kersey. Was Wescott responsible for his own friend's death? It looked like he played a role.

The lack of accurate video evidence and Wescott's own distorted memory provided the perfect catalyst to confuse the investigation. The combination of the two provided a unique roadblock, which allowed Wescott's PTSD to naturally reveal itself to Gibbs, Wescott's brother and most importantly to Wescott himself. 

NCIS questioned Kersey and he confirmed that the marines followed him out of the store and that Wescott went after him. Torres tried to break them up by stepping between the men, but ended up getting punched from both sides. Torres was killed when Kersey pushed him out of the way and hit his head on the ground. Was it self-defense? Or was Kersey responsible? It would be easy for the court to decide that Kersey was the victim here as much as Torres was in the end. 

Wescott mistook Kersey for someone that was involved in the marine attack. He realized he needed help for PTSD after the events leading up to and including Torres' killing. Gibbs was integral in helping Wescott come to terms with what happened. And he encouraged him to talk about the attack and the men who were lost. Wescott's visions of the ambush in Afghanistan caused him to misinterpret events. Or had it?

The twist at the end involved Wescott's repeating of the letters I-J-I. The team tracked down the meaning and tied it to a terrorist group in Afghanistan that was responsible for the attack on the marines. Through surveillance, they saw a picture of none other than Randall Kersey. Wescott wasn't crazy. Yes, he had PTSD, but in this situation, he was right. He was afraid of Kersey and followed him for legitimate reasons.

PTSD is a troubling issue for many who have returned home after being deployed in Iraq and Afghanistan. This episode handled the issue with amazing grace. It's always a pleasure to see Gibbs take on the role of a mentor or confidant to other military members. He has been through so much over the years and seen even more at NCIS, that he is in the perfect position to help others.

This case though is just beginning. At least for Wescott, he will get some solace when he finds out that he correctly identified Kersey. Perhaps that will help him overcome some of his guilt regarding the loss of men in Afghanistan. It wouldn't bring the killed marines back, but at least those responsible will be held accountable.

We'll have to wait for the conclusion next Tuesday to find out what Kersey has planned. Does he have a bomb? What or who is he targeting? 

Carla Day is a staff writer for TV Fanatic. Follow her on Twitter and on Google+.

Tags: NCIS, Reviews
Want more NCIS?
Sign up for our daily newsletter and receive the latest tv news delivered to your inbox for free!
More From TV Fanatic

On tonight's The Bridge, the search for Eleanor continues. Will she kill again before she's found?

On Extant, Molly reveals her pregnancy to John. However, Sparks' story isn't exactly a plausible explanation.

On Graceland, Mike, Briggs and the team pull out all the stops to get Paige back. Read our review of "The Unlucky One" to find out if they were successful.

On Suits, Rachel and Jessica's life choices seep their way into the business of the men in their lives, some of which only cause more problems. Read out review of "Litt the Hell Up."
---