No, it wasn't death by exploding cigar, but perhaps that would have made this episode a little more exciting.
"Collateral" was an odd story to tell. It started out as a case about a former CIA operative that was blown up on his balcony, but turned into a look at Hetty and Granger's past.
With the agent's complicated history and life, it could have been an intense thriller. Instead, the story got ahead of itself and became a bit convoluted along the way, starting with Callen's immediate suspicion of Hetty. He read way too much into her actions for it to seem plausible.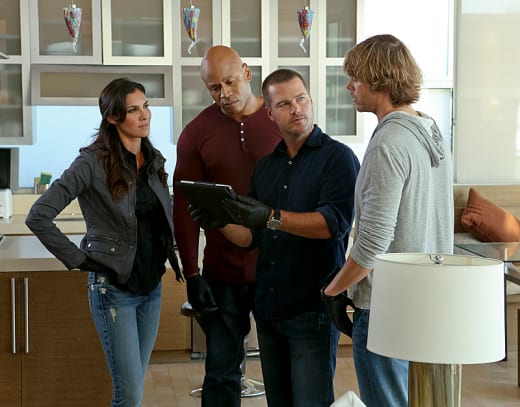 Why would Hetty put them on the case, disappear and not tell them what was going on? Both Hetty and Granger have been secretive in the past, but here it just didn't make sense. Yet, she left clues for Callen to find her. Why didn't she just say where she was going?
Granted, it created suspense and drama about her nut allergy and the quest to find out where she was, but it was contrived and unoriginal. I felt like I was watching two different cases that were poorly merged together.
Fatima Khan was highly motivated in her desire for revenge. It took her years to put all the pieces into place. She went to a good school, made a lot of money and put herself in a position to get the security clearance necessary to find out who killed her father.
She successfully killed two out of the four people responsible. And she very well may have killed Hetty and Granger if the boat shed crew didn't show up when they did. They prevented Fatima's getaway, but it was Hetty that took the final kill shot. It was intriguing that Callen felt the government was responsible for Fatima's ultimate lot in life. 

She wasn't born a killer. We made her one. | permalink
While the case itself fell flat for me, the characters saved it throughout the hour. Their interactions felt authentic, even though they were full of hilarious banter. However, it was the closing conversation between Hetty and Granger that was surprisingly touching.
Hetty and Granger have been through quite a bit in their career and together. They had choices to make and it was reassuring to hear that Hetty was comfortable with those decisions. As she noted, "I didn't choose this life. It chose me." 
Odd and Ends
Kensi won a dinner with Deeks. Interesting....
The cartoon references were hilarious, especially, Yosemite Sam. Too bad, Callen's favorite wasn't G-Force.
For once, it wasn't Deeks having his cover blown, instead he knew the girl was an escort.
Nell's new found love for football and all the references has to be one of the best topics the show has ever done. Loved it!
Who knew that Kensi would be such a pro at getting a gig at a high end escort service? Too bad she's not as good at being hit on by a girl. Uncomfortable.
Nell giving in and helping Callen get in Hetty's box didn't work for me. She gave in way too easily. 
Nell: Her Kung Fu is strong and her magic is powerful. | permalink
Is Sam a geek? Or, is he just "a complicated man?"
Hetty: Let's get faded. | permalink
Carla Day is a staff writer for TV Fanatic. Follow her on Twitter and on Google+.