Well, it's taken nearly half a season, but we finally got to see Rayna and Juliette perform onstage together. In "Lovesick Blues" the blonde bombshells were forced to work together for the record label's anniversary concert.
Marshall Evans sure commands a lot of control over this pair, which surprises me because I feel like Rayna and Juliette are both so feisty and assertive. I figure the two of them could easily get Marshall to cave to their demands.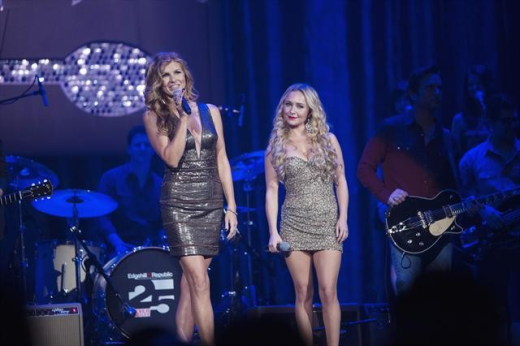 All I know is that this power struggle between the ladies and the record label led to what I thought was an awesome duet. It's about damn time! The song was so catchy and they looked terrific up there together. Isn't it interesting how sometimes great things can come out of something you've been dreading?

Rayna and Juliette both did each other a favor. While Rayna has the experience and clout to perform at a Nashville staple like Ryman Auditorium, Juliette has the younger and larger fanbase. Juliette's fans are the ones who are going to run to iTunes and download like crazy. Rayna's fans - like the ones at Teddy's campaign stop - don't even know a new album has been dropped unless they see it at Starbucks.

That said, Juliette needs to respect her elders and be grateful that Rayna was willing to help her while her reputation is on the down and out. Seriously, when you're being considered the Jessica Simpson to your football player boyfriend Tony Romo, you know you need to take serious measures. In the same way that Jessica probably shouldn't have rocked those mom jeans, Juliette's dress was obscenely short. I am by no means conservative and would normally never even comment, but half of that audience was probably able to give her a gynecological exam from their seats. 

Speaking of Juliette and her new man Sean, that scene in the living room was H-O-T. Poor Juliette really looks for so much validity in sex, though that the second he wanted to slow it down she automatically assumed he was gay. Pump the brakes, girl. Still, wanting to get to know each before jumping in the sack is far different from wanting to wait until marriage to have sex. There's no way Juliette is going to hold out. Perhaps that's the important question she has to ask him in next week's preview?

I prefer Juliette and Deacon to be writing partners and I'm glad they are supportive of each other. Rayna and Deacon will always have the chemistry and the history, so why bring our other leading lady into that whole mess? Obviously Rayna is going to be furious when she sees the photos of Teddy and Peggy, but I think it'll be more about trust and humiliation than heartbreak. Rayna and Teddy have awful chemistry. They are completely wooden with each other. 

Now I know that nobody will ever have chemistry with Connie Britton the way Kyle Chandler did, but she and Deacon definitely have a strong connection. I have a feeling she is going to flee back to him after Teddy's confession. Also, Teddy is lying because there might not be an affair now, but there definitely was at some point. Plus, Kimberly Williams Paisley was just bumped up to series regular. Peggy is here for the long haul.

This show is all about love triangles and props to them because they do it well. Gunnar inappropriately breaking up Scarlett's post breakup makeout session was unintentionally the best thing he could've done. Scarlett ran out in anger and hurt and ran back to Avery... who was sleeping with his slutty manager. Now Scarlett is really ready to move away from Avery and she's also ready to start writing again.

By the way, I was in love with her performance of "Ring of Fire!" Scarlett has got talent!

What did you think of the latest episode of Nashville? What will Teddy do about Lamar's police record and the photos? What did you think of the big duet? Will Juliette and Sean last? Check out our Nashville quotes section and hit the comments! 

Leigh Raines is a TV Fanatic Staff Writer. Follow her on Twitter.

Tags: Reviews, Nashville
Want more Nashville?
Sign up for our daily newsletter and receive the latest tv news delivered to your inbox for free!
More From TV Fanatic

Who was able to successfully problem solve on The Rachael Ray Show this week? Find out now in our review of Food Network Star.

The Masons are reunited. Will it be a happy or contentious reunion?

We don't like to gossip but there was plenty of it on The Real Housewives of New Jersey Season 6 Episode 3. We recap the rumors in our +/- review.

Jamie enlists Roy's help to clear her pro bono client with whom she has a unique bond on Reckless.
---