Jim's Notebook: Open to Sons of Anarchy, Scandal and More!
Jim Halterman at .
You'd think after a long holiday weekend my notebook would be fairly light, but it's been a busy back-to-work week. I've got Sons of Anarchy scoop, Scandal spoilers and Cougar Town tidbits to pass along...
... But first, I want to mention the passing of a TV icon Larry Hagman. I remember the original Dallas, so was thrilled when TNT rebooted the prime time soap earlier this year. One of the most exciting things about Dallas Season 1 was that JR, who Hagman began playing in 1978, was still JR and Hagman was clearly having a blast stirring the pot with JR's devilish ways.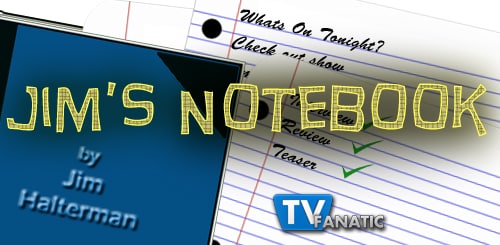 Doing press for the show was just as thrilling and meeting Hagman, as well as other original cast members Patrick Duffy and Linda Gray, was a marvel because the actor was so full of life, cracking jokes and fist bumping every journalist in the press room while joyfully talking about the return of the show.
I was supposed to be on the Dallas set this week, actually, and, as of now, it remains to be seen how the series is going to deal with Hagman's passing. But with the great amount of respect and love the writers gave to bringing the show back, I have no doubt they'll treat the end of an era in the same fashion.
SONS OF ANARCHY Is your jaw still on the floor after this week's penultimate episode of FX's brilliant drama? Following Jax's latest evil deed, I asked creator Kurt Sutter if Jax is truly in control of his actions at this point.
"I think control is a relative thing," he said. "[Jax] has a plan and whether or not that plan is a plan that's based on logic or whether it's based on fear and revenge will remain to be seen."
Sutter also teased a revealing moment from next week's Sons of Anarchy Season 5 finale involving Jax and Bobby: "it's just a 45-second or minute scene... that's very telling in terms of where Jax is at and for me it was about following up on the premise of Jax's journey this year, which is: Can he be a leader of an outlaw organization without turning into Clay? And ultimately if that is the case, can he be okay with that? And what kind of leader is he going to be?"
In anticipation of the 90-minute finale, look for an exclusive interview with Sutter to run Tuesday morning on TV Fanatic!
COUGAR TOWN is coming back in January and I got to hang out with the cast the other night on the show's set in Culver City. The one thing that these actors agreed on? There are no big creative changes moving from ABC to TBS, so rest assured: Cougar Town is still Cougar Town.
And having already seen the first six episodes of the new season, I have to agree. In fact, I'll even say the show is funnier than it was on ABC, as the humor is even a tad bawdier. And, for fans of the will-they-wont-they Laurie and Travis, I can tease that the sitcom is definitely inching closer to seeing them finally take the romantic plunge. Watch for cast and producer interviews to come closer to the premiere in the new year.
SCANDAL Shonda Rhimes has the medical world covered in Grey's Anatomy and Private Practice, but I wanted to know how different it's been on the creative side to spend time in the world of Rhimes' markedly different series, Scandal. Well, Executive Producer Betsy Beers?!?
"In terms of the way the storytelling occurs, it's a real departure from Grey's," she told me, "which is you definitely always have that case which embodies the theme on Grey's."
However, with Scandal, she added, "there's very often a case of the week, which the people are trying to deal with. Then there's the sort of second layer, which is the ongoing conspiracy or larger kind of issue which is clearly driving the storyline of that season. Then there's always the underlying relationship. There's always the going back to the underlying thing, which is this is a woman who is in love with somebody who she can't be with. All of the conflicts and emotional things that come out of that and then conflicts that come out of that. They're woven together in this incredibly entertaining and juicy and complicated way that is not like a lot of things I think you get to see on TV right now."
That's a wrap on this week's Notebook! Anything else you're dying to know about your favorite show? Leave a comment here or you email me directly at jim@jimhalterman.com. And remember: get all your TV scoop by following @TVFanatic.
Jim Halterman is the West Coast Editor of TV Fanatic and the owner of JimHalterman.com. Follow him on Twitter.