Hart of Dixie Review: The Gift of a Candle
Kate Brooks at .
Finally, after many episodes of build up, the Mayoral election was finally here in "I Walk the Line."
I will admit, honestly, that I figured Ruby was going to win the election mainly because I thought they were going try to turn her into a series regular and keep her on for as long as possible. I love Ruby and what her character has brought to the show - but now they have an easy way out if her relationship doesn't work with Lavon.
It's a shame, too. I'm very disappointed that Lavon won the race. Why? It's predictable. I was hoping for a good plot twist, I blame shows like Revenge that have me expecting epic, climatic moments.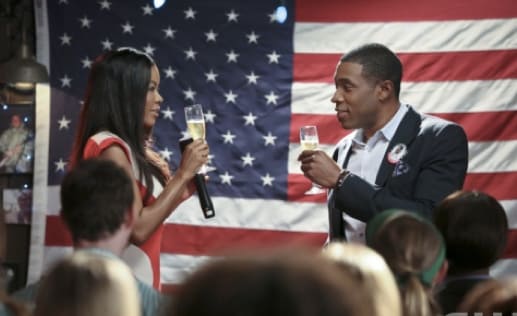 Another thing I found disappointing about tonight's episode was the ending of George's new romance. What was the point of her if they had plans to just dispose of her immediately after?!? George gave this big speech about how he wanted to meet someone who was going to challenge him and I truly thought it was going to be her.
Then there was the ironic twist that George's new love interest is Wade's ex-wife... while Wade sleeps with his end game love interest Zoe. This is something I can get behind and enjoy. How can Wade get mad that George is sleeping with his ex when Zoe could be considered George's ex? Now, how the writers brought us to this new pairing is what bothered me. 
Can Lemon catch a break? I think not. I am beyond thrilled that she has finally realized that she has feelings for Lavon and that Annabeth is now out of the picture. The end scene has me questioning if Lavon believes he made the right choice. He had that look in his eye that he wasn't sure of himself and I hope they build onto that.
A CANDLE LAVON!?? Seriously, you bought the woman a candle after everything she did for you?!? That's a big fault on the writers. If you're going to have the Lavon/Ruby/Lemon love triangle then give us something to keep it going. I'm disappointed. A candle to show his appreciation?!?
Lavon is a better character than that. I get the line "I never know what you want," but their are different ways to go about that. 
One thing that I absolutely adored about was the triangle of Zoe/Brick/Magnolia. First, there was Brick acting all upset because he wasn't having any contact with his girlfriend, which was causing Magnolia to stress out. Neither knew who to run to and I am so happy that it ended up being Zoe to step in. Nothing makes me more content on this show than seeing Brick and Zoe work well together. Please let this grow and develop into an actual partnership. 
Overall, this episode was OKAY. I say that kindly. I thought the idea of the chicken was ridiculous, the gift of the candle was overly disappointing, and George's short lived romance was pointless. This is probably my least favorite episode of the season thus far. I was hoping for more and for a non-predictable outcome.
To end this review on a positive note, I will tell you did enjoy two other things:
The nervous banter from Lavon during the election debate.
I adore Annabeth and her perfectly timed one liners and witty dialogue. You're doing that right, writers.
Now that I've talked about this episode, let me discuss the next one. In case you're new here and this is the first Dixie review you're reading from me then let me make sure that you're aware how excited I am to see McKayla Maroney on next week's installment. If you also don't know who she is, where have you been? McKayla is the gold and silver medal winning gymnast from the London Olympics. In my opinion she is also the fiercest of the Fierce Five and this could be open for debate. 
McKayla will play Tonya, a friend of Rose's who comes to her defense when Rose's crush has a crush on Zoe. I also adore Rose and her noticable absence from the show has been a frustrating thing for me and I am very pleased to be getting more of her.
Until next week.