Elementary Review: The Truth is in the VCR
by Kate Brooks at .
In "The Long Fuse," we were taken on another whirlwind investigation that featured the usual twists and turns. Like all Elementary episodes, we were also treated to a dose of the funny and the serious; it was a very enjoyable hour.
Even though I say this in almost every review, there's a reason for it: my hat is off to Jonny Lee Miller. He is so brilliant as Sherlock. In this particular outing, in the scene where he was watching multiple televisions and memorizing their content, Miller couldn't have been more engaging. He had the body language, movement and dialogue cued perfectly. I'm so impressed with him.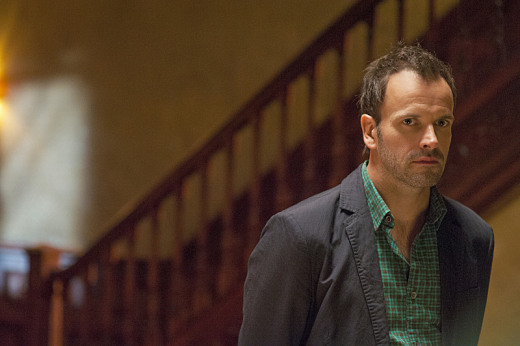 Tonight's episode was a little bit more anticipated than most of the previous ones because of guest star Lisa Edelstein. She played Heather Vanowen, the CEO of a major PR firm. I was very disappointed that she was the killer! I was hoping for more of the sex talk that her and Sherlock had earlier on the episode. Check out the Elementary quotes page to see what I'm talking about! I'd like to note that there is nothing wrong with having a little side business to pay for school, you do what you gotta do. Respect.

As for those twists and turns... we went from a bomb explosion; to the bomb being planted four years previous; to a man's body being hidden in the wall of his home, unbeknownst to his wife; to a prostitution cover up. Seriously, where do the writers get these ideas? This show is unique in the best possible way. 

Elsewhere, we had the secondary storyline of Joan wanting Sherlock to find a sponsor for when she left. When he was interrogating Edgar at coffee, I felt like Sherlock was the child interrogating his mom's new boyfriend; so much judgement and hatred already bestowed upon this stranger. That poor guy never stood a chance. 

Then there was Alfredo, who Sherlock picked out of a meeting he, once again, was not paying attention to. Let me rephrase that: he found him in a meeting that he could have cared less about; he's too perceptive to "not pay attention." I like Alfredo and I hope we see him next week. If not, I won't be heartbroken but I do like how he wasn't what I expected. I thought he'd be not as intelligent or easy going as he was. He'd be good for Holmes. 

But you know who would be better? WATSON! 

In theory, Watson is suppose to meant by his side and I know that she will - BUT I feel sad that their time is almost up. I completely agree with Joan when she made the comment that he's being difficult because maybe he doesn't want her to leave. That said, the anticipation to see what storylines they add or forces they use to keep Watson and Sherlock together is killing me! Whether that be Sherlock asking her to stay, his father requesting her stay or even something I don't expect, I look forward to seeing how that plays out. 

Joan wants what is best for him an maybe she'll be his sponsor. Did you see the way she was watching him help Alfredo break into the car? It was like she was a teacher watching her pupil find greatness. Then her add about, "I don't have a next client" had me thinking she doesn't want to leave either. 

On a lighter side, we had a bunch of comedy in the episode. The first big bit was the first meeting with Edgar, the sponsor. Then there was the initial introduction of Alfredo and his coffee meeting with Joan, which was awkward. They somehow managed to add in Obama but not as President Obama but as Senator Obama... what? Loved it! My personal favorite was the add of the Cheech and Chong video tape. How random is that? I was laughing so hard and their dialogue that followed, perfection. 

I did dislike how Joan and Sherlock didn't get to finish their conversation about Irene (from the episode previous).

Other than that I thought the episode great, as usual.

Tags: Reviews, Elementary
From Around the Web