Castle went where no other crime drama has gone before... at least not as successfully.
And thanks to "Final Frontier," our Round Table Team of TV Fanatic staffers Carly Day, Christine Orlando and Jim Garner - along with Castle fan Andy from The 12th Fan Forum - can completely geek out over Beckett's inner fan girl and what Halloween costume our dynamic duo should have worn.
-------------------------------------------
What was your favorite scene from the episode?
Carla: The end was by far my favorite moment. One of the best of the series. Beckett does sexy well, but her coming around the corner in that disgusting mask was hilarious. It was made even better when she teased Castle to kiss her on the mouth. Loved Castle's escape through the door.
Andy: I really like the scene in the Spaceship, In kind of peels away another layer of the "Beckett Onion". Kate's speech about why she loved the show and Castle understanding why and not making fun of her was nice.
Christine: I had so many it's hard to choose but I loved Castle's reaction to seeing a scantily clad Alexis on the con floor. His reaction coupled with Kate trying to talk him down but only making it worse was perfect.
Jim: Oh God, there were so many. But I have to go with Rick talking about "that Joss Whedon show" and going on about how a series isn't a hit with only 12 episodes.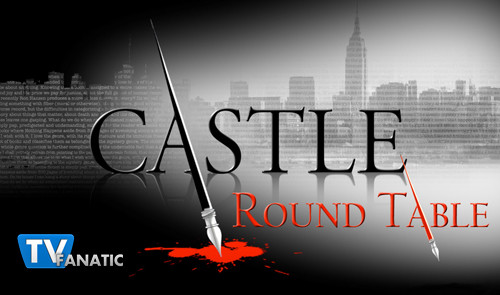 Sidney Perlmutter or Lanie Parish?  Choose your favorite M.E.
Carla: I like them both, but have to go with Lanie. She has deeper connections to the team.

Andy: Lanie Parish just because she's Lanie, but it's hard not to like Perlmutter with lines like "Detective Beckett and Non Detective Castle". I love to see both of them in every episode!

Christine: I love Lanie but the way Perlmutter continually razzes Castle is a lot of fun to watch.  I wish we got to see more of him.

Jim: Lanie has the legs and attitude, Sidney has the best one liners about Rick. Gonna go with "tie."

Were you surprised to find out that Beckett's a geeky, sci-fi fangirl?
Carla: It seemed out of character for her to go to a convention and cosplay, but she is full of surprises outside of her rigid work persona. That's part of the reason I love her so much and her relationship with Castle. He brings out the fun in her.

Andy: I wasn't surprised really, there's so much more we have to learn about Kate. It's fun to see it all come to the surface.

Christine: Just another layer to the "Beckett Onion." It's easy to forget that before her mother was killed, Kate was just a regular teenager having fun. One of the best things about their relationship is that Castle allows that part of her to shine through.

Jim: Not at all, I was surprised she actually admitted it directly to Rick. Maybe this will open the show up to a few more nerd moments.

What is your favorite sci-fi movie or TV show?
Carla: I disliked the Star Trek TV show and original movies, but loved J.J. Abrams' reboot movie. For TV show, since it's in the final season, I'll go with Fringe, though I love many.


Andy: Favorite sci-fi movie? I loved the original Star Wars! Han Solo was my hero.

Christine: I'm a big fan of Star Trek TNG and Firefly but my heart belongs to Star Wars. I was six and the original trilogy will always hold a special place in my heart. I loved that Princess Leia picked up a blaster and fought right long side the boys. In 1977 you didn't get to see that very much.

Jim: Three-way tie: Star Wars, Star Trek, and Battlestar Galactica. I'm loving what JJ Abrams is doing with new Star Trek, I can't wait till Friday to see the first Webisode of BSG: Blood and Chrome and I nearly had a heart attack last week when I learned there was going to be a Star Wars Episode 7. Also, an honorable mention to "that Joss Whedon Show."

Pick the best sci-fi shout out in this episode.
Carla: "That one Joss Whedon show," of course.

Andy: I loved Castle in the Chair saying, "let's make sure history never forgets the name Enterprise," but a close second would be "The Creavers" reference to Firefly.

Christine: Right at the beginning with the Firefly references. When we were introduced to Max (Mal), Chloe (Zoe) and the Creavers (Reavers) I couldn't stop giggling.

Jim: Star Trek, mainly because Nathan did both Kirk and Picard impressions. Okay, and the episode was "Final Frontier." Oh, and.. nevermind. I could go on forever.

We just missed Halloween, but what sci-fi couple would you have Castle and Beckett dress up as?
Carla: Mal and Inara would be perfect. But, going outside of Firefly, I'd have to go with the classic sci fi couple: Han Solo and Princess Leia.

Andy: I'd have them dress up as Han Solo and Princess Leia! With Beckett's hair, can you imagine her in those famous Princess Leia buns!

Christine: Definitely Han Solo and Princess Leia but having Beckett in anything other than the metal bikini from Return of the Jedi would be a crime.

Jim: How many famous "sci-fi" couples are there? As Carla said, the obvious choice is Han and Leia. We know Nathan can wield a gun/blaster. I want to see Stana with the two buns on the side of her head.

Tags: Castle, Round Tables