Castle returned this week with "After Hours," an episode that took Castle and Beckett on the run with a witness and spent some quality time between two parents. Let's discuss the latest hour of our favorite detective show, shall we?
The weekly case centered around the witness to a murder of a priest, who was involved with a mob family and informants.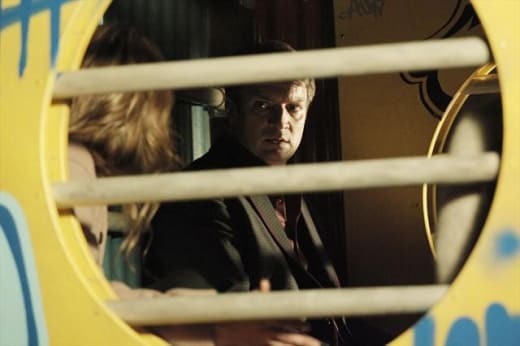 The case jumped all over the place, from having Castle and Beckett hiding with the witness... to Castle getting picked up by a mob boss... to Kate being taken hostage. Although this installment made for some great one-liners, the hour felt a little less than par when it came to Castle standards. 
The eighth episode of Castle Season 5 brought out a few TV veteran guest stars that are always welcome on my screen. Tony Denison and Patrick Fischler were perfect in their roles as the mob boss and creepy killer, respectively. Fischler just looks the part, right?
Castle and Beckett attempted to have dinner with Martha and Jim, Kate's father. You would think this would go well. Not so much. It was a little awkward to begin with, but as expected, the parents were quite friendly by the end of the hour.
Kudos to the writing staff for continuing this relationship in an adult way. The couple has been together for some time now and meeting the family is normal. That is one of the best parts about this series. Although it is quite absurd at times, there are always realistic moments drilled into each episode.
After Thoughts:
Ryan and Esposito have such a great bromance. Both characters were on fire in "After Hours," providing some of the best Castle quotes of the episode.
Gates is definitely softening up on Castle.
Are Rick and Kate's backgrounds too different to move forward?
Overall, an entertaining episode. It jumped around just a bit too much, but the real Castle feel was back. This was very welcome considering the previous episode's documentary style filming. 
What did you think, TV Fanatics? Did you enjoy "After Hours" or was it a bit of a let down? The series has been on a roll the majority of Season 5. Was this hour up to par or did it fall short?
Later this week, make sure to check out the Castle Round Table while we patiently wait TWO weeks until the next new Castle episode. Until then!