NCIS' big PTSD story arc concludes tonight, and executive producer / show-runner Gary Glasberg says it's something he's wanted to explode for a long time with the help of our men and women in uniform.
"It's a delicate subject matter, a really important subject matter. We wanted to make sure we did it properly and handled it properly," he tells TV Guide of the first and second installments of "Shell Shock."
"So there was a tremendous amount of research that went into this story, and I'm really proud of it."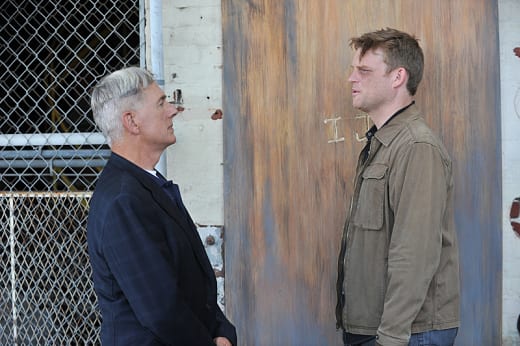 In last week's NCIS, Gibbs and the team investigated after a Navy lieutenant's murder implicated Joe Westcott (guest star Brad Beyer), a Marine who was suffering from post-traumatic stress disorder.
After having lost many of his men during an ambush overseas, Westcott's fighting demons he doesn't fully understand. Since the show had already built a season-long theme of "fallen heroes," the story fit naturally.
The research was also intense for Beyer.
"The one thing that stood out in my head is a lot of these guys that come back, you don't necessarily know what's wrong with them. It can be really subtle," Beyer says of interviews he conducted and watched.
"These guys are always reliving it all the time. They can't decipher between memory and what's going on in the present. I did the best I could to bring a sort of heightened sense to the confusion."
Indeed, in the first hour, Westcott discovers that the attack he believes he and his friend suffered was all in his head. Instead of being the victim, which he was convinced he was, he was really the aggressor.
Believing he recognized someone who led the ambush that killed his men, Westcott gave pursuit and initiated the skirmish that got his friend killed. That realization forces Westcott to finally seek help.
However, in the closing moments, it's revealed that the man Westcott attacked in D.C. perhaps was involved in the ambush on Westcott's unit after all, fighting covertly for the other side in Afghanistan.
"Within the hallucinations and not being able to determine what's real from memory, there is some actual truth," Beyer says. "By picking apart the situation to see what was real, they can get to the bottom of what happened."
"It just confirms that he's not absolutely crazy, that he's not dreaming up all these things."
That doesn't mean Westcott isn't suffering or doesn't need help, however.
"His family and his relationships with his brother and his father are very complex," Beyer says. "His father was an ex-Marine. These people aren't really great with outwardly showing their emotion and their affection."
"When his father finds out there's something wrong, he doesn't know how to handle it."
"The first thing he does is become judgmental instead of sitting down and saying, 'Son, what's the matter?' It's a big hindrance, and that's part of the hurdle that he's got to overcome to get better."
Enter Gibbs, a fellow former Marine who perhaps knows better how to help.
"They bond over the fact that they have been in combat at different points in their lives and understand the trauma and the responsibility and all the things that go along with it," Glasberg says.
"Gibbs recognizes what this kid is going through, and takes him under his wing."
Adds Beyer: "Gibbs' willingness to help Westcott and stand by him allows him to come to terms with everything, get the help that he needs, and clear the air. Gibbs sees something in Westcott that he recognizes in himself."
"The thing with PTSD is that it's a work in progress. They're constantly working on it and receiving help and treatment. The guys who served in World War II and Korea, there was no diagnosis. It was just kind of untreated."
"I'm really pleased from the positive response that we've received from people in the medical fields and the military fields. They're seeing it as a really honest and positive portrayal. So I feel validated by that."
"I really wanted to bring as much honesty to the role as I could. I think it worked, so I'm very, very proud of it."
Steve Marsi is the Managing Editor of TV Fanatic. Follow him on Google+ or email him here.