Bones Spoilers: Pelant's Return, Honoring 9/11 & More
Steve Marsi at .
Bones finally returns next week after a month-long hiatus.
What can we expect from Booth, Brennan and the rest of the Jeffersonian crew this month and beyond? Executive producers Hart Hanson and Stephen Nathan shed some light on that on a conference call today.
Consider yourself warned, minor spoilers ahead ...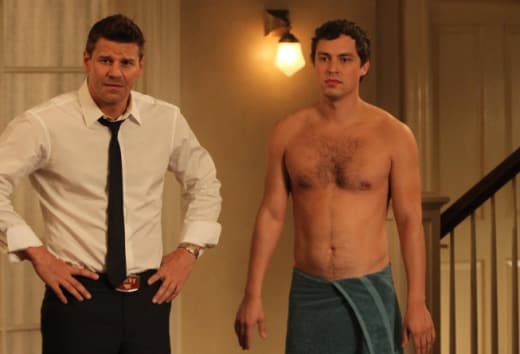 Pelant's return: Expect him back in January, then perhaps again toward the end of the season. "We're starting to talk about our season ender," Hanson said. "And he may or may not be a part of that."
Sweets is making himself at home: See photo above. Enough said.
Honoring 9/11: "The Hero in Purgatory," airing on November 12, features five male squinterns, all young people at the time of 9/11, and their perspective will be those of children faced with tragedy.
Brennan's mystery family member: We'll meet one in Season 8. "We are going to see a family that we don't expect to see," Nathan says of a person mentioned on the show but never before seen.
Booth's mom: She may make an appearance, although there has been no casting. Memorable guest stars set to return for sure include Ryan O'Neal, Billy Gibbons, Cyndi Lauper and Reed Diamond.
Bones/So You Think You Can Dance crossover edition: An upcoming episode takes B&B undercover inside the world of ballroom dancing, featuring Mary Murphy, Tyce Diorio and other SYTYCD alumni.
The best twist to this storyline? "We find out in this that Booth actually taught ballroom dance in college to make money," Hanson says. "I watched David Boreanaz learn to rumba in about five minutes."
As for Brennan, Nathan says she may not have as much luck: "She believes as long as she can look at someone dance, she can replicate that exactly ... and I can tell you, that's just not true."
Another episode finds the team at the roller derby where we learn that "Angela has a little bit of experience in this area," Nathan says. "Angela has been roller-skating a lot more than anybody knew."
Steve Marsi is the Managing Editor of TV Fanatic. Follow him on Google+ or email him here.