The beginning of "Greener Grass" felt like it could have been a scene from my own life. That's probably why I enjoyed this episode of Blue Bloods so much. For as much as it can be a great crime drama, it's the real life family moments that resonate.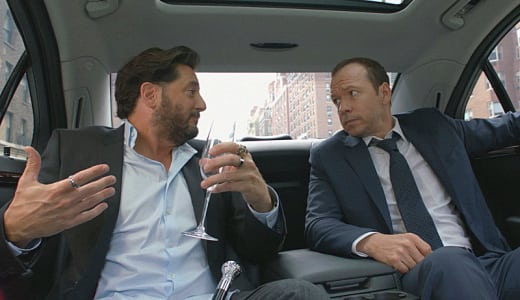 With Linda's car stalling out again and no money to make repairs, Danny did his best to cajole it back to the land of the living. In other words, when it doubt, jiggle a few wires. Before Linda drove to work, she asked in this Blue Bloods quote…
Linda: What do I do if that weird noise comes back?
Danny: Just turn up the radio. | permalink
That's frequently my solution too. Hopefully I don't suffer any catastrophic car fires anytime soon.
But most of us can relate to money troubles and far too many people are living paycheck to paycheck. I couldn't blame Danny for considering that job. Four times his salary would solve a lot of problems, but if he'd be miserable going to work every day then no one in the Reagan family would be happy.
Danny was meant to be a cop. No matter what the challenges. Still, they had me rooting for better times for this part of the Reagan clan.
Over in Brooklyn, Frank demonstrated how not to have a sensitive conversation with a family member when he blurted out that Henry should no longer be driving. 
Once again, the show connected to a real life moment for me. I remember when this issue came up with my grandfather. He took it about as well as Henry.
That Frank stopped to guilting Erin into helping showed how desperate he was for assistance. The resolution came a little too quickly but I liked it all the same.  When Henry gave his car to Linda, it allowed him to feel useful and gave him a valid excuse not to drive. Whether this is the last we'll hear of the issue is another story.
Jamie and Vinny's adventures were less angsty than they've been in recent weeks. Vinny's flirting was pretty cheesy but it was fun to watch. And Jamie wasn't trying to play hero, he just wanted to find the rest of the story.
A few final notes…
The look on Danny's face when he realized Vance had the hots for his sister was priceless.
Frank's conversation skills with Henry may have been lacking but a good Pastrami sandwich should always be brought when apologizing.
Erin and Frank working as the family co-conspirators was really cute. Their relationship gets better every season.
Really, who wouldn't want to be a member of the Reagan family?
C. Orlando is a TV Fanatic Staff Writer. Follow her on Twitter.