Even though there was some fun flirtation between Cat and Evan on Beauty and the Beast this week, the friendship between Tess and Cat is what took a few steps forward, as Cat was faced with some odd moments due to her father's engagement.
Overall,"Worth" really only hit its stride during the moments when Cat and Vincent took center stage. I think we've reached the point in their relationship where there is no turning back.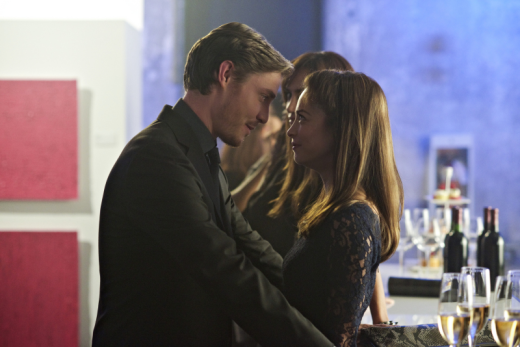 Cat's dad invited Evan along to a family dinner, as any father probably would under the circumstances. Evan was charming and available and when they are together, Cat and Evan seem a good match. When their date fell through and Evan accompanied Cat on a case, he was helping her on with her coat and Vincent happened to be standing in the window. A flash of anger brightened his eyes. 
Happily, the miscommunication from the birthday party wasn't carried on longer than necessary. Although they did have their sticky moment of "fine, we're just the job," neither Vincent nor Cat could really tow that line for very long. Try as they might to behave otherwise, when they are together, they just start to melt.
I was hoping the paintings Cat and Tess found at the artist's loft were not completed. If people can make money on painting a canvas with one color of paint, then I've been pursuing the wrong lines of work. Imagine my surprise when they showed up at the opening and it was just similarly colored canvases hanging on the walls. Thank God the buyers were out for the women. At least in making a $15,000 bid on Tess, you knew the Mr. Hitchcock lookalike had some taste! Vincent was (of course) sneaking around on the case and showed up to give her a better point of view than what Cat thought she had already.
Evan spotted them squirreling off together, and I hope that doesn't eventually come back to haunt them, but Cat seemed to talk her way out of it with little after effect to Evan.
What Vincent found was that the artist really was practicing his craft by way of capturing his love for one particular woman:
Vincent: Look at the way he captured her. The curve of her back, the softness of her skin. He spent every waking moment painting her. She was in every brushstroke. | permalink
As he was explaining how he imagined the artist working on the drawings and paintings, Cat's mouth went slack and I swear there was just the tiniest bit of drool coming out of it. Vincent may turn into a monster when he is angry, but when he sees beauty and love, he can describe it in a way to turn a woman into mush.

That made me think about the man he was before he "died" in Afghanistan. We learned from the newspaper man he visited that his father used to buy a paper there every day, before he lost two boys in the Towers and one in Afghanistan. Who was Vincent Keller before the war? The man who loved his country so much and suffered so much from his loss that he volunteered himself to become a super soldier to right the wrongs he thought done to his brothers and country? I'd really like to see that explored. Who did he love? Was there someone special in his life? 

As we saw recently on Bones, stories about 9/11 still pack an emotional wallop. Let's see Vincent's. Wasn't that his turning point? Didn't that one fateful day cause him to make a decision that lead him to another and another until he was on the run for the rest of his life? Maybe it's just me, but I think it would really interesting to learn more about the man who is so deeply scarred but can still care so much for his fellow man despite all that has been done to try to turn him away from who he once was. 

After "Worth," I'm fully on board with Cat and Vincent. The only problem seems to be his ever-increasing bouts of memory loss. Waking in the middle of the street with bloody hands doesn't bode well, either. His choice of waking on top of a bridge last week was much better than in the middle of a road this; his unconscious self has to be more careful. I'm sure he's doing good, but didn't a part of you imaging him ripping Evan's heart out? Even a little part?

So tell me: What was your favorite knee buckling moment from Vincent tonight?

Carissa Pavlica is the managing editor and staff writer for TV Fanatic. Follow her on Twitter and on Google+.

Tags: Beauty and the Beast, Reviews